Single Board Computer is radiation-tolerant.
Press Release Summary: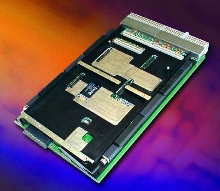 Space-qualified, single-slot, 3U CompactPCI Model S950 combines PowerPC 750FX processor with silicon on insulator processor for less than 12 W power consumption. It features 33 MHz 32-bit internal PCI bus, 1 Mb dual redundant boot Flash memory, and triple redundant 128 Mb SDRAM. Board is designed for both manned and robotic space vehicles in harsh space radiation environments found in low earth orbit, high earth orbit, and deep space applications.
---
Original Press Release:

New Radiation-Tolerant, Space-Qualified 3U COMPACTPCI SBC Provides Performance Increase of Up to 5X aAt Significantly Reduced Cost


Chatsworth, CA, May 16, 2005 - Aitech Defense Systems, Inc., a world leader in the development and manufacture of board and subsystem level products for harsh environment defense, aerospace and space applications, has introduced a new radiation-tolerant, space-qualified single-slot, 3U CompactPCI (cPCI) single board computer (SBC) that provides an increase in performance of up to 5x and a cost reduction of up to 2x when compared to the point-driven, purposed-based designs currently in use.

The new rad-tolerant, conduction-cooled S950 is designed for both manned and robotic space vehicles in harsh space radiation environments found in low earth orbit (LEO), high earth orbit (HEO), and deep space applications. These include redundant mission computers, flight guidance and navigation computers, as well as command and data handling computers.

The new board combines a high performance, low power PowerPC 750FX processor with a Silicon on Insulator (SOI) processor for reduced power consumption, typically less than 12 W, as well as for increased processor speed and radiation tolerance. Its custom metal frame provides substantial rigidity and shock resistance, as well as an array of stiffeners to support rugged PCI mezzanine cards (PMCs).

The S950 is rad-tolerant with a minimum board-level total ionization dose (TID) of 20 krad (Si). Flight units with higher TID tolerance are available upon request. In addition, the board is latch-up immune with a high linear energy transfer (LET) of 37 MeV*cm²/mg and features a low single event upset (SEU) rate of less than one upset per 25 years in operation at International Space Station (ISS) orbit.

The triple redundant 128 MB SDRAM features a voting mechanism incorporated into a rad-tolerant FPGA. The 1 MB dual redundant boot Flash memory, guaranteed by two independent banks, employs a watchdog mechanism that toggles between the two banks until a successful firmware reboot occurs. The board also features 64 MB of non-volatile ECC-protected user Flash memory, with an optional Flash FileSystem Driver (FFD) software package to implement a file system.

The S950 features a 33 MHz, 32-bit internal PCI bus that supports single and burst transfers, and provides the interconnection to peripheral I/O, enabling fast access between the PCI devices and the host processor. The board's external 33 MHz, 32-bit cPCI bus interface is implemented on a rad-tolerant FPGA for local processor access to cPCI resources. The board can be configured as a single-slot system controller, supporting up to seven additional cPCI boards, or as a standard cPCI board in any other cPCI bus slot.

The S950 comes with an extensive firmware package that includes boot software, an AIMon monitor/debugger tool, an AIDiag diagnostic tool, and BIT, which can be executed either during power-up or after the board has been booted. A COP/JTAG interface provides for debugging and development. The new SBC also comes with a complete board support package (BSP) for WindRiver's VxWorks real-time operating system (RTOS) version 5.5.1 including drivers for users to take full advantage of the board's features. Support for other RTOS systems may be available upon request.

Pricing for the S950 rad-tolerant 3U cPCI SBC starts at $ 23,050. Delivery is 16 to 18 weeks ARO.

For more information please call 888-Aitech-8 (248-3248), visit www.rugged.com, or e-mail sales@rugged.com.

About Aitech
Established in 1983, Aitech offers military and space-qualified, commercial off-the-shelf (COTS) products for defense, aerospace and space applications, radiation tolerant and MIL-SPEC solutions; providing VMEbus and CompactPCI boards, power subsystems, mass memory, enclosures and hardware subsystem integration along with configuration and component obsolescence management services. In addition, Aitech utilizes its broad base of off-the-shelf products and technologies to develop customer-specific solutions, deliver superior cost-performance and reliability, and expedite time to market. Applications for its products range from mission processors, fire control and mission control subsystems for ground vehicles, surface and subsurface naval platforms, tactical and strategic fixed- and rotary-wing aircraft, and low- to high-earth orbit space vehicles.

More from Agricultural & Farming Products