Single-Board Computer is PICMG 2.16 compliant.
Press Release Summary: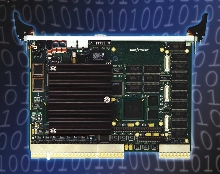 IBC 2400 CompactPCI 6U single-board computer features Sun Ultra SPARC IIe-based 64-bit processor operating at 500 MHz. It supports up to 2 GB of main memory and 14 MB of user Flash memory. Unit occupies either single master or peripheral I/O slot in standard CompactPCI chassis and supports full I/O hot swap. It auto-senses and operates as CompactPCI system slot or non-system slot SBC. Standard keyboard, mouse, and COM ports are provided on front panel.
---
Original Press Release:

I-Bus/Phoenix Announce the Launch of the IBC 2400 PICMG 2.16 Compliant Ultra SPARC(TM) IIe Single Board Computer


- 500 MHz Ultra SPARC IIe Processor with 4-way 256KB cache
- PICMG 2.16 Packet Switched Backplane Compliant
- Fully PICMG 2.9 Compliant with optional BMC
- Supports up to 2GB ECC SDRAM
- 64-bit, 33MHz PMC interface
- System Master or Peripheral Operating Modes

San Diego, CA, - I-Bus/Phoenix announces the launch of the IBC 2400 CompactPCI 6U form factor Single Board Computer (SBC) that is designed for high performance and high availability embedded
applications in the telecommunications, network core and industrial markets. The IBC 2400 boasts the latest generation Sun Ultra SPARC IIe-based 64-bit processor operating at 500 MHz. The SBC also supports up to 2 Gbytes of main memory and 14MB of user Flash memory. The 2400 occupies either a single master or peripheral I/O slot in a standard CompactPCI chassis and supports full I/O hot swap, thereby promoting maximum application availability and system serviceability. The IBC 2400 auto-senses and operates as a CompactPCI system slot or non-system slot SBC.

Standard Keyboard, Mouse and COM ports are provided on the front panel, and a PMC slot is provided for user I/O or coprocessor add-on. A complete 64-bit PCI bus, PIM-compliant PMC I/O connections, and two COM ports are provided on the rear J3/J5
connectors. An optional IBC 2300 rear-mounted Transition Module provides two Ultra160 SCSI and two 10/100Base-T Ethernet ports, COM 1/COM 2 ports, and provision for a PIM (PMC I/O Module). The IBC 2300 provides dual Ethernet to the J3 connector to support switched-fabric backplanes which allows our OEM customers to
develop high density, high performance compute farms without bulky cabling. Combined with the I-Bus/Phoenix C08xx family of NEBS enclosures, the IBC 2400 forms the high performance SPARC core in the most demanding real-time communications, networking and broadcast applications.

"I-Bus/Phoenix is pleased to add the IBC 2400 SBC to our full line of leading edge Packet Switched Backplane products," said Johni Chan, I-Bus/Phoenix's VP of Engineering. "I-Bus/Phoenix continues to provide our OEM customers with the latest Packet Switched Backplane technology utilizing both Intel and Sun SPARC
architectures."

General availability of the IBC 2400 will be August 2002. This SBC is also available as part of the IBP Early Access Program which began in May 2002. OEMs interested in the Early Access Program should visit ibus.com/eaprogram for full information.
Pricing for a typical configuration in OEM quantities will be $2695.

For more information, please visit our newly re-designed company web site at www.ibus.com or e-mail us at info@ibus.com.

I-Bus/Phoenix is an ISO-9001 quality-certified world leader in the design, manufacture and support of high performance, industrial-grade power and computer systems. In addition, I-Bus/Phoenix offers customized, partner-oriented services focused on meeting the needs of OEMs including purchasing collaboration, stable supply-chain management, configuration control, and complete system integration and test services. With our "Best of Breed" partners program, we offer complete application ready solutions utilizing technologies developed both in-house and by third party industry leaders, delivered in a collaborative environment to provide the OEM customer a level of global support that ensures success, allowing OEMs to focus on their core competencies, rather than on managing a diverse set of independent vendors.

For further information contact:
Denise Serrano
I-Bus/Phoenix
8888 Balboa Avenue
San Diego, CA 92123
Tel: +1 (858) 503-3077
Fax: +1 (858) 503-3005
Email: dserrano@maxwell.com

United Kingdom: Cathy Clark, I-Bus/Phoenix,
Tel: +44 (0) 1243 756441 Email: sales@ibus.co.uk

France: Catherine Kervarec, I-Bus/Phoenix,
Tel: +33 (0) 493 004360 Email: ventes.fr@ibus.com

Germany: Ulrich Diehl, I-Bus/Phoenix,
Tel: +49 (0) 814 246790 Email: verkauf@ibus.com