Single Board Computer features PC/104 and PC104+ formats.
Press Release Summary: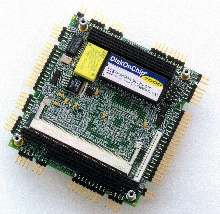 Model ZXE-ST586/104P replaces ZF Micro ZFx86 CPU-based PC/104 and PC/104+ boards. It includes ST Micro Atlas CPU, 4 Mbyte of flash memory, 256 K BIOS, and up to 3.78 Mbyte of compressed file system, which is used to boot system out of box. SDRAM is 64 Mbyte, expandable to 128 MB. SBC includes 4 Mbyte video memory and video outputs for both LCD and CRT displays. It runs Windows and DOS and comes with Linux installed. Components are soldered for shock and vibration resistance.
---
Original Press Release:
Zendex ZXE-ST586/104P PC/104 and PC/104+ Single Board Computer Replaces ZF Micro ZFx86-Based PC/104 Products

Dublin, California, November 4, 2002 --- Zendex Corporation, a 20-year veteran of the embedded control systems industry, introduces the ZXE-ST586/104P Single Board Computer (SBC) in PC/104 and PC/104+ formats. The ST586/104P is a richly-featured,
complete computer system which includes on-board memory and is capable of "booting-from-the-box" without the need for additional hardware or software.

This new entry into the product lineup provides a replacement for ZF Micro ZFx86 CPU-based PC/104 and PC/104+ boards. The ZF Micro device is becoming increasingly difficult to find and expensive to purchase.

The ZXE-ST586/104P features the ST Micro "Atlas" CPU which is functionally very similar to the ZF microcontroller. It includes 4MB of flash memory, incorporates 256K BIOS, and up to 3.75 MB of a compressed file system which is used to boot the SBC right out of the box. The ST586/104P comes standard with Linux already installed. The SBC also runs DOS and Windows operating systems. In addition, the SBC includes 64MB of SDRAM, which can be expanded to 128MB for applications with large memory requirements. The SBC includes video outputs for both LCD and CRT displays and 4MB of video memory.

All standard components are soldered on, allowing the device to withstand the shock and vibration found in rugged environments. It is also ideal for space-limited applications and challenging commercial or industrial environments because of its nearly unrestricted memory and I/O capabilities.

Zendex is a full-service provider of single board computers, embedded processor boards, multi-function boards, Multibus and iSBX modules, industrial enclosures and custom systems. Zendex also specializes in designing system boards for custom applications. Zendex headquarters is located at 6780A Sierra Court, Dublin, CA 94568-2623. Telephone 925-828-3000, fax 925-828-1574. Website www.zendex.com Contact Forrest Sass, Theorem LLC, 925-462-5280.
More from Material Handling & Storage