Single Board Computer features 5th Gen Intel® Core(TM) processor.
Press Release Summary: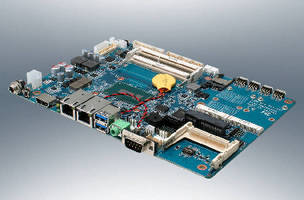 Based on 5th generation Intel® Core™ processor with Intel® HD graphics 5,500, 5.25 in. Model EBM-BDW supports HDMI+LVDS dual display configurations and two 204-pin DDR3L SODIMM system memory with up to 8 GB capacity per SODIMM. I/O deployment includes 2 mPCIe ports, 1 HDMI, 1 CF, 2 USB 3.0 ports, 4 USB 2.0 ports, 1 COM port, and 16-bit GPIO. Equipped with built-in touch controller, SBC is suited for gaming, industrial, retail, digital signage, medical, and SMB storage applications.
---
Original Press Release:

Avalue Introduces EBM-BDW, 5.25-inch SBC Based on 5th Generation Intel® Core(TM) Processors



TAIPEI, TAIWAN, – Avalue Technology Inc. (TAIEX: 3479-TW), a global embedded solution provider and an associate member of the Intel® Internet of Things Solutions Alliance, is introducing the 5.25-inch SBC EBM-BDW based on 5th generation Intel® Core™ processors. The newest Intel® Core™ processors, are based on Intel's 14nm process technology, which is designed to prove excellent graphics and performance in a smaller thermal envelope, supporting the next generation of Internet of Things solutions, while maintaining ready compatibility with previous generations.



The 5.25-inch embedded board, EBM-BDW, supports two 204-pin DDR3L SODIMM system memory with up to 8GB capacity per SODIMM. EBM-BDW supports dual display configurations: HDMI+LVDS. The I/O deployment includes two mPCIe ports (one supports mSATA and one supports PCIe & USB with SIM card slot), one HDMI, one CF, one lockable DC jack, two USB 3.0ports, four USB 2.0 ports, one COM port and 16-bit GPIO, makes various requirements of embedded applications possible. One audio jack supports Realtek ALC892, 5.1-CH audio. Two LAN ports support Intel I210AT and Intel I218LM.



"Intel's 5th generation Intel® Core™ processors bring excellent performance for embedded edge devices in Internet of Things applications. With this new technology, Avalue will be able to provide their customers with important advancements in speed and performance required for Internet of Things solutions." said Samuel Cravatta, IOTG Product Line Director, Intel.



The EBM-BDW's combined features make it the an excellent choice for applications requiring an ultra low-power, high performance and high graphics performance applications, including gaming industrial, Retail, digital signage, Medical, ATM machine and SMB storage & surveillance.



Platform benefits:

Performance: Ultra low-power package, powering space-constrained devices in more environments

Compatibility: Seamless upgrades from 4th generation Intel® Core™ processor platforms to help lower development costs and reduce time to market

Graphics: New Intel® HD Graphics delivers stunning and responsive visuals in 5th generation Intel® Core™ processors, including increased display resolution, additional codec support, and 4k support

Security: Excellent security and manageability features help drive down total cost and risk, protecting data and preventing malware threats.



EBM-BDW main features:

Onboard 5th Generation Intel® Core™ processors with Intel® HD graphics 5500

2 x 204-pin DDR3L SODIMM Up to 8GB Per DIMM

Dual Display (LVDS & HDMI)

2 mPCIe Ports, One Supports mSATA and USB w/SIM Card Slot

2 x USB 3.0 compatible with USB 2.0, 4 x USB 2.0 (2 x 10-pin box wafer)

Build in Touch Controller

+12 ~ 26V Wide Power Range



For full series of products based on 5th generation Intel® Core™ Processors, please visit our website at www.avalue.com.tw, or contact with sales@avalue.com.tw for more details.



About Avalue Technology

Avalue Technology (TAIEX: 3479-TW) is a professional industrial computer manufacturing company, which is dedicated to developing the x86 architecture products, including embedded computers, single board computers (SBC), Systems-on-Modules/ ETX (SoM/ ETX), industrial motherboards, all-purpose panel PCs, all-in-one POS terminals, ARM computing and barebone products, etc. Having expanded, Avalue offers its expertise on PCB/ Assembly/ BIOS version control and after-sales all type of services. An ISO 9001:2008 certified company; Avalue offers assurance to customers in every aspect of its business. With its headquarter located in Taiwan, Avalue has global subsidiary company, including Avalue China in Shanghai, Avalue USA in New Jersey, BCM Advanced Research in California, Avalue Japan in Tokyo, and Avalue Europe in Denmark. In addition, Avalue Technology operates an extensive distribution network to accommodate and serve customers all over the world.



Intel and Intel Core are trademarks of Intel Corporation in the U.S. and/or other countries.



Media Contact:

Email: pr@avalue.com.tw

More from Test & Measurement