Single Board Computer comes in two versions.
Press Release Summary: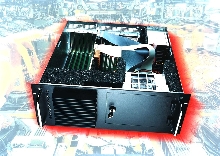 Open-architecture PxV414 system is available in PCI-747 version for telecommunications and security and PCI-946 for industrial automation and transportation. 747 has 1GHz Pentium III or 850 MHz Celeron processor with up to 512 Mbyte RAM, while 946 has 850 MHz Pentium III or 566 MHz Celeron processor with up to 768 Mbyte RAM. Options include Ethernet channels, onboard video, USB ports, micro-PCI slot, and support for Profibus and CAN fieldbus.
---
Original Press Release:
New Board Level System Solution From PEP Combines Versatility, Ruggedness, And Quiet Operation

Pittsburgh, PA, November 30, 2001 -- PEP Modular Computers, a leading manufacturer of low power, industrial automation CompactPCI and VME single-board computers (SBCs) and systems, has introduced the PxV414, a flexible, scalable 4U open-architecture system solution designed for industrial automation, telecommunications, security, and transportation applications.

The new PxV414 is available in two different platform configurations and offers scalable performance by selecting one of two Kontron PICMG full-sized SBCs. The first, intended for telecommunication and security applications, houses Kontron's PCI-747 SBC. The PCI-747 may be equipped with a 1GHz Intel Pentium® Ill or an Intel 850MHz Celeron processor, an Intel 815E chipset, and up to 512 MB SDRAM. Abundant l/O interfaces include dual Ethernet channels (10/10OBase-T), onboard video with 4MB cache, one USB port, and a micro-PCI slot.

Kontron's PCI-946 SBC offers a cost-effective PxV414 solution with an 850MHz Pentium III or 566MHz Celeron, Intel's 440BX chipset and up to 768 MB SDRAM. The second PxV414 platform is ideal for industrial automation and transportation applications. Available I/O interfaces include an Ethernet channel (1 0/1 00 Base-T), onboard video, two version 1.1 USB ports, two serial ports (RS232; COM2 configurable as RS422/RS485), a bi-directional ECP/EPP parallel port and SCSI-3.

The PxV414 platform solution offers flexible 14-slot PICMG backplane configurations and supports up to 5 drive bays (3 accessible, 2 non-accessible). Additionally, the PCI-747 and PCI-946 Socket 370 based architecture supports a vast range of scalable performance Pentium CPUs.

The new system is constructed using EPAC® (Electronic Packaging Assembly Concept) technology, in which a molded-foam lining holds all major components securely in place without the use of screws. In addition to simplifying the replacement of components, EPAC technology also helps extend component life and reduce temperature sensitivity, by incorporating ventilation channels into the molded-foam lining. The chassis ventilation fan is equipped with a controller, ensuring low noise emission at normal loads.

The PxV414 is capable of supporting fieldbus technologies commonly used for automation and robotics applications (such as PROFIBUS and CAN) through the use of integral fieldbus cards. Further options include a 32 MB PCI VGA card, removable IDE or SCSI hard drive, and an ATAPI CD-RW/DVD drive.

The PxV414 supports most major operating systems including Windows 2000/NT/98/ME, Linux, QNX, and Solaris.

Pricing for the new PxV414 starts at $2,070 per device. Delivery is 4-6 weeks ARO.

More from Test & Measurement