Single Basket Retort offers rotary and reciprocating agitation.
Press Release Summary: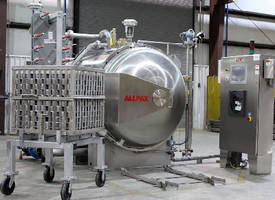 Facilitating production-scale testing in R&D lab, 5 ft diameter Versatort provides static processing as well as rotary agitation in 32 in. cube basket and reciprocating agitation in 40 in. cube basket. Rotary agitation works well for vertically oriented packaging, such as cans and glass jars, while reciprocating agitation is more effective for horizontally oriented containers, such as pouches and bowls. Processing modes include saturated steam, water spray, water immersion, and steam-air.
---
Original Press Release:

Allpax Introduces the "Versatort" Production Scale R&D Retort With Rotary and Reciprocating Agitation Capabilities



The new five-foot diameter, single basket retort offers multi-mode and multi-agitation operation. This new retort eliminates the need to leave the R&D environment and travel to an offsite plant for testing on a full-sized production machine.



COVINGTON, LA – Allpax Products, powered by Pro Mach, introduces the Versatort, a full size, production scale research and development (R&D) retort with the capacity to perform both rotary and reciprocating agitation. The new Versatort retort facilitates production-scale testing in the lab environment. Having this production sized retort readily available in the R&D lab provides much faster throughput from product development to production.



Recognizing that its customers needed a versatile R&D retort solution, Allpax designed the Versatort to provide static processing as well as rotary agitation in a 32-inch cube basket and reciprocating agitation in a 40-inch cube basket. Processing modes include saturated steam, water spray, water immersion, and steam-air.



"The Versatort is another example of Allpax's ability to provide customization tailored to a customer's needs," said Greg Jacob, Vice President and General Manager, Allpax. "Not only does this production scale retort provide the tools to determine the optimum solution, but it also gives customers the assurance that they have a plug-and-play R &D retort to meet their future needs."



Versatility

The Versatort is ideal for brand owners and co-packers that produce several different types of packages. Rotary agitation works well for vertically oriented packaging, such as cans and glass jars. Reciprocating agitation is more effective for horizontally oriented containers, such as pouches and bowls. With this retort, users have a one-stop shop for all of their commercial R&D production testing as well as producing test market batches.



In addition, the new retort gives large food manufacturers with multiple products in various types of containers the ability to choose the process mode and agitation method best suited for their specific needs. It also gives them the assurance that they will achieve the exact same outcome when the recipe and process are implemented on the plant floor.



The Versatort gives users the unique ability to weigh differences between reciprocating and rotary agitation for their application and select the optimal solution. For example, a rectangular container can be oriented vertically or horizontally. If it is horizontal, reciprocating agitation is the best choice. If it is standing up, rotary agitation is typically the best solution. Users can make direct comparisons to determine which agitation style works best for the product's overall quality of taste and appearance. Testing also gives an accurate idea of overall throughput based on each process.



Easy changeover

To ensure easy changeover between agitation methods, the rotary and reciprocating modules of the Versatort are mounted on customized carts that can quickly be moved into position so the modules can be bolted in place. This provides an ergonomically friendly method for changeovers and a simple solution that suits the limited space laboratory environment.



For information on the new Versatort solution from Allpax, call 1-888-893-9277 and visit www.Allpax.com.



About Allpax Products           

Allpax Products, a market leader in retort technology and retort room automation, designs, manufactures, and delivers turnkey sterilization solutions for the food, beverage, pet food, and pharmaceutical industries. The company is recognized for helping customers become more successful by decreasing time to market with laboratory retort equipment, lowering overall labor costs through automation, and increasing the overall throughput of the sterilization process. www.Allpax.com



About Pro Mach

Pro Mach is a leading provider of integrated packaging products and solutions for food, beverage, household goods, pharmaceutical, and other diverse consumer and industrial companies. Through multiple business units and related brands, Pro Mach provides equipment, installation, training, parts, and service in bottling and capping, primary packaging, flexible packaging, identification and tracking, material handling, and end-of-line packaging.



Pro Mach has a diverse customer base, from Fortune 500 companies to smaller, privately held businesses worldwide, which depend on reliable, flexible, technologically advanced packaging equipment and integrated solution sets. Pro Mach is headquartered near Cincinnati, Ohio, with manufacturing facilities and offices throughout the United States and Canada. For more information about Pro Mach, visit www.ProMachInc.com



Contact:

John Eklund

jeklund@ProMachInc.com

704-944-5340