Multi Axis Positioning Stages / Tables
Single-Axis Air Bearing Stages combine performance, modularity.
Press Release Summary: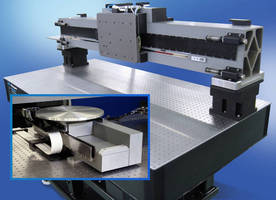 Suited for single-axis, split XY, and gantry applications, SinguLYS(TM) series employs stage and bridge configurations. SinguLYS S-370 stage, manufactured from silicon carbide ceramic components, has 3-point mounting and carriage that features integrated pressure-vacuum air bearings. Along with ceramic beam, SinguLYS B-1200 air bearing bridge features rigid pressure-vacuum air bearing carriage that accommodates 10 kg cantilevered payloads with 2.5 G acceleration.
---
Original Press Release:

Newport's New SinguLYS(TM) Single-Axis Air Bearing Stages



Irvine, CA - Newport Corporation, a worldwide leader in laser and photonic solutions that Make, Manage and Measure Light®, announces the new SinguLYS(TM) family of single-axis air bearing stages. The new stage and bridge configurations combine high performance with modularity, making them ideal for single axis, split XY, and gantry applications. Newport will present the high precision stage family during SEMICON West, July 13-15, 2010, at San Francisco's Moscone Center, in South Hall booth #1807.

The SinguLYS S-370 stage is manufactured from silicon carbide (SiC) ceramic components, similar to Newport's popular DynamYX® and HybrYX(TM) stage product families. The body's extremely rigid and compact footprint with 3-point mounting allows this stage to be used in tight spaces typically reserved for mechanical bearing designs without the need for large, lapped mounting surfaces to maintain precise trajectory. The lightweight carriage features integrated pressure-vacuum air bearings which are guided by a precisely-lapped SiC body. Newport's new high precision stage is ideal for tasks with very high duty-cycles that require low angular deviation, tight velocity regulation, and high cleanliness standards.

The SinguLYS B-1200 air bearing bridge features a proprietary ceramic beam that is 3 times lighter than steel and offers triple the stiffness of granite. When used to replace a steel or granite-based design in an existing or next-generation tool, the properties of the B-1200 can improve acceleration and decrease settling times, which increases throughput and accuracy with minimal system redesign. The lightweight and rigid pressure-vacuum air bearing carriage accommodates high (10kg) cantilevered payloads with 2.5G acceleration and, unlike stages using mechanical bearings, minimizes contamination to the substrate below. Applications for Newport's B-1200 include Gen 8-11 flat panel display inspection, thin film photovoltaic scribing, and wafer processing.

Specially designed for frictionless operation, both the S and B SinguLYS series of air bearing products are extremely sturdy, highly reliable, and require no maintenance and/or lubrication. For more information on the new motion control products, please visit booth #1807 at SEMICON West, or visit http://www.newport.com/singuLYS.

About Newport Corporation

Newport Corporation is a leading global supplier of advanced-technology products and systems to customers in the scientific research, microelectronics manufacturing, aerospace and defense/security, life and health sciences and precision industrial manufacturing markets. Newport's innovative solutions leverage its expertise in high-power semiconductor, solid-state and ultrafast lasers, photonics instrumentation, sub-micron positioning systems, vibration isolation, optical subsystems and precision automation to enhance the capabilities and productivity of its customers' manufacturing, engineering and research applications. Newport is part of the Standard & Poor's SmallCap 600 Index and the Russell 2000 Index.

Company Contacts:
Kim Abair
Director, Global Marketing
Tel: 800-222-6440 / 949-863-3144
E-mail: kim.abair@newport.com

Walter M. Silvesky
Senior Business Development Manager - Newport Motion
Tel: 800-222-6440 / 949-863-3144
E-mail: walter.silvesky@newport.com

More from Architectural & Civil Engineering Products