DC to DC Power Supplies (Converters)
Sinamics DCP 120kW DC-DC Power Converter comes with buck/boost capability.
Press Release Summary: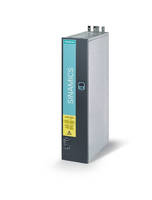 Available in 0-800 V range, Sinamics DCP 120 kW DC-DC Power Converter with bi-directional DC-DC drives helps in integrating DC sources with energy storage devices such as batteries and supercapacitors into multi-generator applications. Enabling connection of energy storage systems to the DC link of an active line module, inverters offer scalable power, and energy yeild can be fed back into a power grid, island or industrial grid.
---
Original Press Release:
Sinamics DCP 120kW DC-DC Power Converter for Industrial, Smart Grid and e-mobile Applications
Siemens introduces a second addition to its popular Sinamics DCP product family of scalable (4X), bi-directional DC-DC drives. The DCP 120kW facilitates the integration of larger energy storage systems such as batteries and supercapacitors into multi-generator applications for a wide variety of industrial, smart grid and e-mobile uses, including photovoltaics, fuel cells, wind power and high dynamic uses such as peak shaving.

This new drive features combined buck/boost capability in a single device for optimized interconnection between DC sources and energy storage devices plus the DC link for both motor inverter and infeed/grid inverter. Available in a wide voltage range from 0-800V DC, this new inverter enables connection of energy storage systems to the DC link of an active line module. Bi-directional energy flow and scalable power are further features, along with a high efficiency up to 98.6% maximum energy yield can be fed back into a power grid, island or industrial grid.

The compact footprint of the DCP 120kW converter results from the built-in reactors and control unit for space-saving design use. The built-in control unit also permits stand-alone operation of the drive. Profinet or Ethernet/IP are standard for Profibus communications.

Different infeed sources such as solar, fuel cell and wind power can be connected to realize a multi-generator power system, further broadening the application of this unit.

Uses for this new drive include peak shaving using stored energy on centrifuges, presses, elevators, stacker cranes, gantry cranes and industrial lift trucks, as well as battery test systems, test systems for photovoltaic power plants, smart grid uses including energy storage on wind and solar systems, fuel cells and numerous marine applications such as emissions reduction, offshore platform winch and crane operations and charging technology for e-boats with battery power. In the emerging e-mobility market, the unit is ideal for fast-charge stations for e-cars, e-buses and hybrid systems that incorporate motors in combination with fuel cells or supercapacitors.

Siemens SINAMICS DCP 120kW DC-DC converter has myriad uses in industrial, smart grid, marine and e-mobile markets. Unit features buck/boost capability for interconnection of DC sources with energy storage devices.

Siemens Corporation is a U.S. subsidiary of Siemens AG, a global technology powerhouse that has stood for engineering excellence, innovation, quality, reliability and internationality for more than 165 years. With 343,000 employees in more than 200 countries, Siemens reported worldwide revenue of approximately $98 billion in fiscal 2014. Siemens in the USA reported revenue of $22.2 billion, including $5.2 billion in exports, and employs approximately 46,000 people throughout all 50 states and Puerto Rico.

For specific product information and inquiries, call (800) 879-8079 ext. Marketing Communications or send an e-mail to:
mc.us@siemens.com. Or, go to the website for full details: www.usa.siemens.com/drives. 

Contact for journalists:
Siemens Industry, Inc.
John Meyer
(847) 640-1595
john.meyer@siemens.com

Siemens Industry, Inc.
Hollie Davis
(770) 751-4882
hollie.davis@siemens.com
More from Communication Systems & Equipment