Simulation Software enables vibro-acoustic analysis.
Press Release Summary: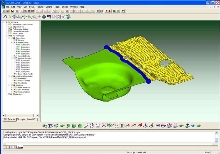 PAM VA One provides integrated environment for simulating response of vibro-acoustic systems across entire frequency spectrum. Along with finite element analysis (FEA), software integrates statistical energy analysis (SEA) within modeling environment and enables creation and solving of fully coupled FEA/SEA models. Software includes library of add-on modules as well as model management tools for creation of models from existing CAD and FEA data.
---
Original Press Release:

ESI Group Launches PAM-VA One, an Integrated Simulation Environment for Full-Frequency Vibro-Acoustic Analysis


PAM VA One has been described by industry professionals as the most important breakthrough in vibro-acoustics in the past twenty years.

Example of FEA and SEA subsystem coupling within PAM-VA One Environment.

Chicago, August 8, 2005

ESI Group, an innovative company committed to delivering state-of-the-art predictive vibro-acoustic solutions announced the official launch of PAM-VA One at InterNoise 2005, the International Congress and Exposition on Noise Control Engineering. PAM-VA One is the world's first fully integrated environment for simulating the response of vibro-acoustic systems across the entire frequency spectrum. This major product launch represents the latest ESI Group's innovative solution for vibro-acoustic simulation, analysis and design.

PAM-VA One incorporates Finite Element Analysis (FEA) and Statistical Energy Analysis (SEA) within a single easy to use modeling environment. In addition, the software implements a state-of-the-art method for creating and solving fully coupled FEA/SEA models. This major theoretical breakthrough significantly extends the types of vibro-acoustic problems that can now be addressed with simulation. Since 2004, leading OEM's in the automotive, aerospace, and rail industries have participated in ESI Group's "Structure-Borne Noise Consortium" and contributed to the development and validation of PAM-VA One.

PAM-VA One offers a comprehensive range of internal solvers to meet analysis needs. In addition, the software includes interfaces to external solvers to ensure compatibility with existing vibro-acoustic analysis and design processes. The flexibility of PAM-VA One lets the user choose the optimal simulation strategy based on cost, time and computational resources. The software also includes powerful model management tools for quick and easy creation of models from existing CAD and FEA data. PAM-VA One also has an extensive library of add-on modules to ensure that the software can be easily integrated into existing CAE and design processes.

"This software is the result of a long-term research and development effort by ESI Group and we are proud to announce its release. We have worked closely with our key customers and research partners to ensure that the software is validated and meets the needs of our worldwide user-base" says Dr. Phil Shorter, Lead Acoustic Scientist, ESI Group.

"The theory underpinning the FEA/SEA coupling part of PAM-VA One is the most important breakthrough in vibro-acoustics in the past 20 years." says Prof Ken Heron FREng, QinetiQ Senior Fellow. "This is a vital step towards predicting structure-borne noise at mid and high frequencies."

PAM-VA One, the One simulation environment for full frequency vibro-acoustic analysis will be available for first customer shipment in October 2005.

ESI Group's Vibro-Acoustic Solutions

Virtual prototyping solutions reduce reliance on costly and time-consuming physical testing, speed up the product development process, and optimize the use of noise and vibration control materials. ESI Group's vibro-acoustic software portfolio now includes PAM-VA One : the first fully integrated software environment for full frequency spectrum vibro-acoustic analysis; RAYON : low-frequency software for characterization of complex noise sources and the prediction of the low frequency vibro-acoustic performance of fully trimmed structures; AutoSEA2 : the industry standard for high frequency noise and vibration, analysis and design software ; Nova : a software package dedicated to the design of multi-layered acoustic components software ; and Foam-X : a data acquisition and post-processing software for identifying the acoustic properties of poro-elastic materials from impedance tube measurements.

About ESI Group

ESI Group is a world-leading supplier, and a pioneer of digital simulation software for prototyping and manufacturing processes that take into account the physics of materials. ESI Group has developed an extensive suite of coherent, industry oriented applications to realistically simulate a product's behavior during testing, to fine-tune manufacturing processes in accordance with desired product performance, and evaluate the environment's impact on product performance. ESI Group's products, which have a proven track record in manufacturing and have been combined in multi-trade value chains, represent a unique collaborative and open virtual engineering solution known as the Virtual Try-Out Space (VTOS), enabling virtual prototypes to be improved in a continuous and collaborative manner. This integrated protocol allows all the company's solutions to work with each other and with applications developed by independent software vendors. By significantly reducing costs and development lead times and enabling product/process synergies, VTOS solutions offer major competitive advantage by progressively eliminating the need for physical prototypes during product development. The company generated sales of circa Euros60m in 2004, employs almost 500 high-level specialists worldwide covering more than 30 countries. ESI Group is listed in Eurolist compartment C of Euronext Paris. For further information, visit www.esi-group.com.

Virtual Try-Out Space® and VTOS® are registered trademarks of ESI Group. All other products, names or companies are the brands or registered trademarks of their respective owners.

For further information, please contact:

ESI Group - Press Relations
Nathalie David-Franc
nathalie.david-franc@esi-group.com
Phone : + 33 (0)1 41 73 58 35

or

FRENCH TECHNOLOGY PRESS OFFICE
205 North Michigan Avenue, Suite 3740
Chicago, IL 60601
Fax: (312) 327-5261
E-mail: contact.ftpo@ubifrance.fr