Silver-Filled Epoxy Adhesive suits applications up to 480°F.
Press Release Summary: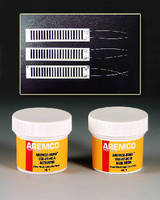 Formulated using high purity silver flake, Aremco-Bond™ 556-HTHC is used for microelectronic chip bonding, semiconductor die-attach, hybrid packaging, and other electrical/electronic assembly applications. Two-part, electrically and thermally conductive adhesive exhibits low volume resistivity of less than 0.0001 Ω-cm at room temperature and thermal conductivity of 2.2 W/m-°K. Product offers tensile shear strength of 1,700 psi, Shore D hardness of 90, and viscosity range of 40,000–45,000 cP.
---
Original Press Release:

New Aremco-Bond 556-HTHC Silver Epoxy Now Available



Aremco-Bond™ 556-HTHC, a new silver-filled, highly electrically conductive, high temperature epoxy developed by Aremco Products, Inc., is now used for microelectronic chip bonding, semiconductor die-attach, hybrid packaging, and other electrical and electronic assembly applications to 480 ºF (250 ºC).



Aremco-Bond™ 556-HTHC is an advanced, two-part, electrically and thermally conductive, high temperature epoxy formulated using a high purity silver flake. This adhesive exhibits an exceptionally low volume resistivity of less than 0.0001 ohm-cm at room temperature and a thermal conductivity of 2.2 W/m-ºK. The continuous operating temperature range is 390 ºF (200 ºC) and intermittent use temperature is 480 ºF (250 ºC). The tensile shear strength is 1,700 psi and Shore D hardness is 90. Viscosity range is 40,000 to 45,000 cP.



Aremco-Bond™ 556-HTHC is an advanced, two-part, electrically and thermally conductive, high temperature epoxy formulated using a high purity silver flake. This adhesive exhibits an exceptionally low volume resistivity of less than 0.0001 ohm-cm at room temperature and a thermal conductivity of 2.2 W/m-ºK. The continuous operating temperature range is 390 ºF (200 ºC) and intermittent use temperature is 480 ºF (250 ºC). The tensile shear strength is 1,700 psi and Shore D hardness is 90. Viscosity range is 40,000 to 45,000 cP.



Typical applications for Aremco-Bond™ 556-HTHC include microelectronic chip bonding, semiconductor die-attach, hybrid packaging, and other electrical and electronic components used in connectors, lighting and sensor components.



Please contact Aremco's Technical Sales Department for more information about this advanced new product.



Technical technical@aremco.com

Orders orders@aremco.com

Pricing quotes@aremco.com

MSDS msds@aremco.com



More from Paints & Coatings