Silver Conductive Epoxy Adhesive sets up in 5-10 minutes.
Press Release Summary: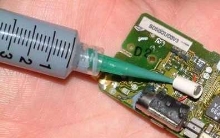 Suited for similar and dissimilar substrates, EP77M-F forms bonds that are resistant to thermal cycling and chemicals. Full cure takes 8-12 hr at room temperature, and electrical conductivity is first detectable within 30-60 min. With low volume resistivity of 10
-3
ohm-cm, 2-component, silver-filled, 100% reactive epoxy adhesive has 4°K to 125°C service operating temperature and 1:1 mix ratio by weight or volume.
---
Original Press Release:

Silver Conductive Epoxy Adhesive Has Rapid Set Up Time


HACKENSACK, NJ - Feb 4, 2005 -- Master Bond Inc. of Hackensack, New Jersey has developed EP77M-F, a new, two component, silver filled, electrically conductive epoxy adhesive for high performance bonding. This compound has a low volume resistivity of 10-3 ohm-cm. It will set up in 5-10 minutes at room temperature, even when applied in very small amounts. Full cure usually takes 8-12 hours at room temperatures. Electrical conductivity develops rapidly and is first detectable within 30-60 minutes.

Master Bond EP77M-F has high bond strength to similar and dissimilar substrates. Adhesion to metals, glass, ceramics, vulcanized rubbers and most plastics is excellent. Bonds are resistant to thermal cycling and chemicals including water, oil and most organic solvents. EP77M-F has a wide service operating temperature range of 4°K to +125°C.

Unlike the majority of two part silver conductive epoxy systems, EP77M-F has a one to one mix ratio, by weight or volume. It can be applied with minimal sagging or dripping even on vertical surfaces. It is 100% reactive and does not contain any diluents or solvents. It has low outgassing properties.

EP77M-F is available in glass jars and metal containers. It is also available in syringes for ease of application.

CONTACT:

James Brenner, Marketing Manager
Email: jbrenner@masterbond.com
Tel: 201-343-8983
Fax: 201-343-2132

MASTER BOND INC.
154 Hobart Street
Hackensack, NJ 07601-3922
Web: www.masterbond.com

More from Adhesives & Sealants