Miscellaneous Cleaning Equipment
Silo and Bin Cleaning System offers hydraulic cutting head.
Press Release Summary: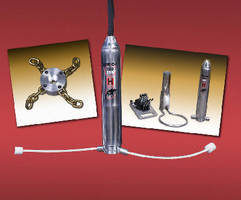 Providing 100% coverage of vessel's interior walls from original set-up position, Junior(TM) 360° is available with JR360H hydraulic cutting head or JR360P pneumatic cutting head, both with interchangeable blades, flails, or chain cutters to safely remove variety of materials. Chain cutter, or whip mounts, swivel into hydraulic cutting head to keep overall diameter to 5 in., enabling use in small flow channels. Hydraulically assisted section boom adapts to different size vessels.
---
Original Press Release:
Mole-Master Redesigns Silo and Bin Cleaning System
MARIETTA, OH - The industry leader's do-it-yourself silo and bin cleaning system has been completely redesigned and now offers both a new hydraulic cutting head option (JR360H) and the previously available pneumatic cutting head (JR360P). The redesign and new options, recently introduced at the International Poultry Exhibition (IPE) in Atlanta, were all done to enhance ease of operation and improve worker safety. "The hydraulic cutting head option is brand new and offers a clear advantage in many circumstances," said Dave Laing, General Manager for Mole·Master Services Corporation. "While our original Junior(TM) used hydraulics for certain operations, the cutting head was operated pneumatically." "Now, for the first time, we are able to offer our customers a choice of a pneumatic cutting head or our all-new hydraulic cutting head," he said. "The JR360H system simply requires access to electricity, whereas the JR360P system requires an air compressor or plant air, which may pose an inconvenience." Laing also noted that the hydraulic cutting head provides the operator with greater torque and, due to the availability of a new, higher RPM motor, equivalent operating speed. Customers who still prefer Mole·Master's pneumatic cutting head for their silo and bin cleaning system will need access to an air source. But they still will benefit from enhancements to the overall design and the confidence of knowing that there is zero chance for contamination of their material since hydraulic fluid is not powering the cutting head. "With the expanded Junior(TM) 360º lineup, lost storage capacity is still restored quickly, safely and economically without the risk of product contamination," Laing said. "As always, the unit provides 100% coverage of the vessel's interior walls from its original set-up position." The enhanced Junior(TM) 360º silo and bin cleaning system features:
o A hydraulically assisted sectional boom, providing the flexibility to adapt to different size vessels.
o Pneumatically or hydraulically actuated cutting head, featuring interchangeable blades, flails, or chain cutters engineered to safely remove a wide variety of materials.
o A new chain cutter, or whip mounts, which swivel into the hydraulic cutting head to keep the overall diameter of the cutting head to 5". Another great feature, the all-new hydraulic cutting head, is significantly smaller in diameter (5") than any head on the market, enabling it to fit into extremely small flow channels or ratholes without losing any power or cleaning capacity. A smaller diameter lessens time to enlarge the flow channel. Furthermore, a hydraulic cylinder and fixed length cable now raise and lower the boom, providing superior control while eliminating costly gear reducers and associated parts. With the new hydraulic options, the silo and bin cleaning system remains easy to transport and to assemble, making it a great choice for do-it-yourself cleanout projects. Plus, the Junior(TM) 360º's flexibility and range eliminates the need for workers to enter bins or silos during cleanout, dramatically increasing worker safety in the process. Visit Mole·Master's website for more information on the enhanced JR360 silo and bin cleaning system at www.molemaster.com/equipment-parts-junior-360.asp or email contact@molemaster.com for details. Ohio-based Mole·Master is the leading manufacturer and provider of silo and bin cleaning equipment and services. Company Contact
Michael Bailey
1-800-322-6653
contact@molemaster.com
Reno Business Park
27815 State Route 7
Marietta, Ohio 45750
More from Services