Silicone Rubber Heating Tape is flexible and efficient.
Press Release Summary: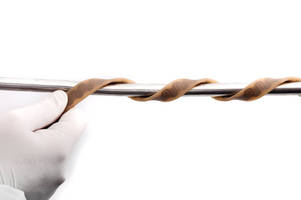 Available in standard lengths to 100 ft and custom lengths to 200 ft, RKF flexible silicone rubber heating tape can wrap around complex systems in tight spaces while providing surface contact needed for efficient heat distribution. Extrusion of heating element in silicone rubber promotes durability while also lending to water and chemical resistance. Able to reach temperatures up to 450°F, this flexible alternative to heat trace heating cable offers ¼ in. bend radius and uniform heat.
---
Original Press Release:
BriskHeat Launches New, One of a Kind, Long-Run Silicone Rubber Heating Tape
BriskHeat has introduced a first-of-its-kind, truly flexible alternative to traditional heat trace heating cable. RKF silicone rubber heating tape is an extremely flexible silicone heating tape that is ideal for applications where traditional heating cable falls short.

Available in lengths of up to 200ft, RKF heating tape is extremely flexible to easily wrap around complex systems in tight spaces while providing excellent surface contact for efficient heat distribution. BriskHeat RKF heating tapes are completely unique in the industry making difficult heat tracing applications, a thing of the past.

"No other company in the world makes a product like the BriskHeat RKF XtremeFLEX® heating tape," said Tony Multon, Vice President of Engineered Solutions. "We wanted a product that compared to heating cable but made the installation process for small diameter pipes and complex shaped objects easier."

BriskHeat's new RKF heating tape takes the core technology heating element, found in almost all BriskHeat heaters, and extrudes it in silicone rubber. The silicone rubber extrusion process provides extreme durability along with excellent water and chemical resistance making it the perfect solution for a wide variety of uses.  With the capability to reach temperatures of up to 450°F (232°C), it is an excellent alternative for freeze protection to higher temperature maintenance and process control applications.

"The [BriskHeat XtremeFLEX® heating tape line has been around for 50+ years." Multon continued. "Recent customer demand for a solution that provides the durability and flexibility our XtremeFLEX tapes offer, with the wattage distribution of traditional heat trace cable gave us an opportunity to expand upon an already successful product line with the development of the RKF tape."

Unlike traditional heat trace products, the RKF tape has a tight bend radius of ¼", allowing for easier installation and more surface contact, providing a more efficient, reliable, and uniform heater. RKF heating tape is available in standard lengths up to 100ft and custom lengths up to 200ft. Standard lengths of 20ft, 40ft, 60ft, 80ft, and 100ft are available online at www.briskheat.com. To learn more about the new RKF silicone rubber heating tape, contact BriskHeat at 1-800-848-7673 or bhtsales1@briskheat.com.

To find a distributor near you, visit http://www.briskheat.com/t-distributor.aspx

About BriskHeat:
Since 1949, BriskHeat has provided flexible heating solutions used for freeze protection, condensation prevention, flow / viscosity control, vacuum bake-out, composite curing, and temperature process control. BriskHeat's primary manufacturing facilities and headquarters are located in Columbus, OH. In addition, BriskHeat has a worldwide sales network including sales offices in Taiwan, Shenzhen, Hong Kong, Germany, and France as well as a manufacturing facility in Vietnam.