Silicone RFID Wristband increases event/medical efficiency.
Press Release Summary: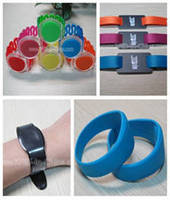 Suited for sporting events, festivals, conferences, and exhibitions as well as hospitals and medical emergencies, smart and waterproof RFID Silicone Wristbands-46 series promotes access management efficiency. Reading distance is up to 20 cm depending on reader and IC type, and tag complies with ISO15693 protocols and ISO14443 standards. Working on frequency of 125 KHz or 13.56 MHz, product features replaceable electronic chip and can be customized with colors and logo.
---
Original Press Release:

Advanced RFID Wristband System Makes the Hospital Service More Humanized



With the maturity of RFID technology, the application of RFID wristband tag has also become more and more wide, convenient and efficient under the unremitting efforts of RFID producers and users. As an outstanding RFID tech products developer and manufacturer, DAILY RFID has recently released a series of smart and waterproof RFID wristband tag for a variety of festivals and events such as sports, conferences and exhibition, and also for hospitals and medical emergency, aiming at enhancing the efficiency of access management and heighten the level of human service.



As a matter of fact, the performance of DAILY's RFID wristband tag is so excellent because it has the reading distance up to 20cm (depends on reader and IC type), owns the advantaged replaceable electronic chip and complies with ISO15693 protocols & ISO14443 standards. For RFID wristband tag - 46, this new developed RFID product working on the frequency of 125KHz or 13.56MHz, is high-efficiency, smart, waterproof, flexible and easy-to-wear. Moreover, made from silicone and with the beautiful shape, this RFID wristband tag can be a decoration, and it can be customized with various colors and logo. In terms of medical emergency, for example, putting on RFID wristband tag, then through the tablets in the hands of a doctor, the patient's data can be transferred to terminal of the hospital information in the first place.



There is no doubt that RFID wristband tag is able to assist the hospital in successful implementation of patient information system with the advanced operating mechanism and excellent management standards. Furthermore, RFID wristband system is gradual popularization to all the world, bring high level medical services that becoming an important tool of patient identification and tracking. Put simply, by right of high quality and brilliant performance, the intelligent and wireless RFID wristbands have the ability to make the hospital service more humanized.



Please find more info about RFID wristband tag at DAILY RFID website: http://www.rfid-in-china.com/products-45-1.html



About DAILY RFID CO., LIMITED



DAILY RFID CO., LIMITED (http://www.rfid-in-china.com), which belongs to PAN Group Co., Ltd, is the leading company focusing on the research and development of EPC & RFID technology, such as RFID wristband tag with low cost in China.



DAILY specializes in producing arguably the world's most extensive line of low cost RFID products, which are suitable for any vertical markets, and have obtained the National Integrated Circuit Card Register Certificate, IC Card Manufacture License and ISO9001 Quality Management System Certification. Also, we own a factory covering an area of 26,000 square meters.



DAILY's RFID products are designed and manufactured with recognized industry standards relevant to RFID and its markets but most notably for use in the demanding environments to recognize and understand your business's RFID and NFC needs.