Silicone Potting Compound assures complete fill-in.
Press Release Summary: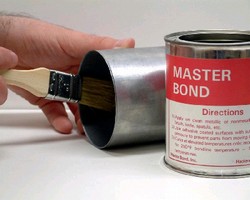 Suitable for casting, potting, and encapsulation, 2-component MasterSil 151 cures at room temperature or more rapidly at elevated temperatures. It features elongation at break of 160%, Shore A hardness of 45, and dielectric strength of 460 V/mil. Optically clear product offers resistance to vibration, impact, shock, and thermal cycling. With service operating temperature range of -65 to +400°F, low viscosity compound assures complete fill-in around complicated contours.
---
Original Press Release:

Low Viscosity Silicone Potting Compound Assures Complete Fill-In



Hackensack, NJ. February 26, 2008-Master Bond MasterSil 151 is a new two component, low viscosity silicone compound for high performance casting, potting and encapsulation introduced by Master Bond Inc. This formulation is designed to cure at room temperature or more rapidly at elevated temperatures. MasterSil 151 has superior electrical insulation properties, high tensile strength and superb optical clarity. It has a service operating temperature range of -65°F to +400°F.

MasterSil 151 is tough and flexible. It has an elongation at break of 160% and a Shore A hardness of 45. It has superior resistance to vibration, impact and shock. It also is resistant to thermal cycling. MasterSil 151 has a dielectric strength of 460 volts/mil and a volume resistivity of 1x1015 ohm cm.

Master Bond MasterSil 151 has a 10 to 1 mix ratio by weight. Its low viscosity assures complete fill-in around complicated contours in even very complicated configurations. Shrinkage upon cure is very low. Shelf life in original containers is 6 months at 75°F. MasterSil 151 is available for use in ½ pint, pint, quart, gallon and 5 gallon kit containers.

About Master Bond's Silicone Adhesives:
Master Bond's one and two part RTV silicone systems are resistant to high temperatures and water. They offer superb electrical insulation and sealing/adhesive properties in conjunction with glass, plastics, metals and rubber. Their inherent flexibility allows for "repairability" when this property is needed.

Master Bond offers a number of specialty type systems including one part conformal coatings, special fast curing systems, higher temperature resistant specialty systems, thermal conductive systems as well as optically transparent silicones.

Read more about Master Bond's Silicone Adhesives at: www.masterbond.com/prodtype.html#psilicone or contact: James Brenner. Phone: 201-343-8983 Fax: 201-343-2132 E-mail: technical@masterbond.com

Please note: This product is custom manufactured and packaged to the customer's specifications when the order is placed, as such; pricing varies tremendously based on the quantities and packaging type ordered. A rough bid would be $350 - $500 for minimal quantities with substantial discounts for volume purchases.

Visit our WEBSITE at http:/www.masterbond.com or E-Mail us at Main@Masterbond.com

More from Adhesives & Sealants