Silicone Ink is flexible and electrically conductive.
Press Release Summary: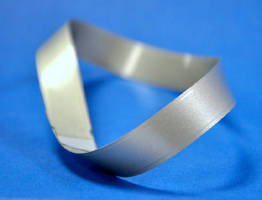 Formulated to be screen printed, 125-19 High Temperature Ink can be used with Kapton®, Teflon®, and rubber surfaces as well as ceramic, glass, and silicone substrates. Environmentally friendly product can also be syringe-dispensed, dipped, and sprayed. Providing electrical insulation and resistance to water, ink is produced as smooth paste suited for EMI/RFID shielding, polymer thick film circuitry, and electrical attachments for stress-sensitive devices.
---
Original Press Release:
125-19, Flexible High-Temperature Electrically Conductive Ink
For many years, Creative Materials, Inc., has offered 102-32, a highly effective silver-filled conductive silicone adhesive, which has a very strong track record and is used in a variety of applications. In response to popular demand, we have now developed a variation of this product, a new screen-printable silicone conductive ink, 125-19, which has the potential to become one of our best-selling products! Tyngsboro, MA - - Creative Materials introduces 125-19, Flexible High-Temperature Electrically Conductive Ink. This ink offers all the properties of typical silicone products, while also being screen-printable. The result is a more versatile ink that can be used in a wide variety of production modes and expanded range of applications. Like all silicone inks, 125-19 is highly flexible, resistant to high temperatures, and can be used with such substrates as Kapton®, Teflon®, and rubber surfaces. Formulated to be screen printed, 125-19 can also be syringe-dispensed, dipped, and sprayed and is ideal for use with ceramic, glass, and even silicone substrates. In addition, 125-19 offers an overall balance of peel strength, cohesion, lap shear strength, and high-temperature holding power. With lower viscosity and smaller particle size, an important feature of 125-19 is its screen-printing capability, which allows the substrate to be prepared for component placement in one pass, thus promoting ease of assembly. The many features of this product offer the promise of its increased use in the design and production of electrical assemblies. Applications of 125-19 include EMI/RFID shielding, polymer thick film circuitry, and electrical attachments for stress-sensitive devices. Creative Materials offers a variety of silicone adhesives and ink systems, which are characterized by their unique combination of strength and flexibility, high-temperature resistance, and ease of use in assembly. They are fast-curing, highly conductive, very tough, and environmentally friendly. Silicone products offer excellent resistance to water, superb electrical insulation, and superior adhesion to glass, plastics, metals and rubber. Produced as a smooth paste, silicone products assure complete fill-in around complicated contours and provide excellent electrical conductivity as well as superior resistance to stress. Other Creative Materials' silicone inks and adhesives: 120-13, 123-27, 124-47, 102-32, 117-33, 105-07, 108-15. For further details, please refer to product data sheets: www.creativematerials.com/datasheets.html Creative Materials, Inc., is a leading manufacturer of electrically conductive inks, coatings, and adhesives. Products from Creative Materials are used in electronic components for computers, keyboards, cell phones, solar collectors, automobiles and aircraft, for medical electrodes, medical instruments, and heating equipment. Creative Materials is ISO 9001 certified, with an extensive product line that includes more than 1,000 products. The company is renowned for creating custom formulations that are used in a wide variety of global applications, providing cost-effective design solutions for demanding production requirements. With over 80 years of experience in the adhesives, ink and coating industry, our staff combines technical expertise with nimble production capabilities, enabling us to reduce time-to-market for new product applications. Our products are manufactured to order, with typical lead times of two or more weeks. Pricing is available upon request. For more information about these and other products, please visit our website at www.creativematerials.com, or contact us at info@creativematerials.com
More from Fluid & Gas Flow Equipment