Silicone Hose uses color tracer lines for identification.
Press Release Summary: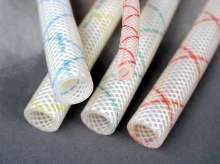 Color Braid Silicone Hose incorporates platinum-cured silicone elastomer, polyester braiding with tracer line, and outer layer of silicone. Colored braid helps differentiate between lines used for transfer and processing of fluids, air, or granular materials. Offered in ID sizes from 1/16-1 in., sterilizable/autoclavable hose features temperature range of -100 to 400°F and is suited for pharmaceutical, food, beverage, cosmetics, chemical, and medical uses.
---
Original Press Release:

New Color Options for Reinforced Silicone Hose Help Identify Lines


Color Tracer Lines Distinguish Between Multiple Hoses

Southampton, PA - New from AdvantaPure is Color Braid Silicone Hose, a unique advantage for line identification. Incorporated into flexible, braid-reinforced silicone hose, the colored braid material provides an easy-to-see tracer line and offers a quick way to differentiate between lines used for the transfer and processing of fluids, air, or granular materials. Industries that benefit from this feature include pharmaceutical, biomedical, food, beverage, dairy, soap and cosmetics, chemical, medical, and other high purity applications.

AdvantaPure's Color Braid Silicone Hose begins with a core of low volatile grade, platinum cured silicone elastomer. The core material is also NSF (National Sanitation Foundation) 51 listed. To enhance pressure-carrying capabilities, polyester braiding, including the tracer line, is then applied, and an outer layer of silicone completes the product. By incorporating the identifying colors into the interior braid layer, the hose retains its compliancy with Class VI, FDA CFR 177.2600, ISO 10993, European Pharmacopoeia 3.1.9, and 3A standards.

The hose's colored braid is used among other braid material, which is white. Braid colors currently offered include red, blue, green, and yellow. Uses for identification can be as simple as red for a high temperature line and blue for cold. Colors can be used to relate to equipment or products within the hose, to signify direction of flow, and for other identification needs. As a custom option multiple braid colors may be used in a single hose.

Color Braid Silicone Hose is available in I.D. sizes from 1/16" to 1". Temperature use encompasses a wide range of -100°F to 400°F, and the hose is sterilizable/autoclavable.

For more information on Color Braid Silicone Hose, contact the Sales Team at AdvantaPure, 145 James Way, Southampton, PA 18966; phone 888-755-4370 or 215-526-2151; fax 888-258-4293 or 215-526-2167; e-mail: sales@advantapure.com; Web site: www.advantapure.com.

About AdvantaPure® and NewAge® Industries
AdvantaPure, a division of NewAge Industries, specializes in ultra-clean products for the pharmaceutical, biomedical, food, beverage, and cosmetic industries. All products are manufactured, stored, and shipped using the cleanest methods possible to ensure unsurpassed product purity.

In business since 1954, NewAge Industries is a manufacturer and fabricator of thermoplastic and thermoset tubing and hose, and a private-brand master distributor of fittings and clamps. The company offers one of the broadest product lines of tubing, hose, and fittings in the U.S., and its custom extrusion and fabrication services are unrivaled. NewAge Industries maintains a large inventory and prides itself on same-day shipment of 98% of orders for its core product lines.

More from Software