Silicone Elastomer suits optical and display applications.
Press Release Summary: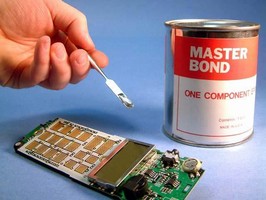 Featuring set-up time of 8-12 min at 75°F, room temperature cure MasterSil 415 one component silicone elastomer has dielectric strength of 500 V/mil and service temperature range of -185 to 400°F. Resistant to vibration, impact, and shock, it has Shore A hardness of 30, elongation of 400 at 75°F, and tensile strength of 325 psi. Compound can be applied on vertical surfaces without sagging or running, and cures to flexible, rubbery solid when exposed to atmospheric moisture.
---
Original Press Release:

New One Part Silicone Elastomer Gas High Transparency to Visible Light



HACKENSACK, NJ - Nov 10, 2006 -- A new one component high performance silicone elastomer compound for bonding, sealing and coating has been developed by Master Bond Inc., Hackensack, N.J. called MasterSil 415. This formulation has high transparency and is particularly well suited for optical and display applications. It cures at ambient temperatures to a flexible, rubbery solid when exposed to atmospheric moisture. It is easy to apply and has a paste consistency. It can be applied on vertical surfaces without sagging or running.

Master Bond MasterSil 415 has a convenient set-up time of 8-12 minutes at 75°F. It is a superb electrical insulator and has a dielectric strength of 500 volts/mil (1/8" thick test specimen). It can be used over an extremely wide service temperature range of from -185°F to +400°F. It is highly recommended when low temperature serviceabilty is of major importance.

MasterSil 415 has excellent resistance to vibration, impact and shock. It also offers superior moisture resistance and weatherability. It has a Shore A hardness of 30 and an elongation at 75°F of 400. Tensile strength is 325 psi.

Master Bond MasterSil 415 has a 6 months shelf life at 75°F in original unopened containers. It is available for use in tubes, cartridges and 5 gallon pails. It is FDA certifiable and meets MIL-A-46106 specification.

CONTACT:
James Brenner, Marketing Manager
Email: jbrenner@masterbond.com
Tel: 201-343-8983
Fax: 201-343-2132

MASTER BOND INC.
154 Hobart Street
Hackensack, NJ 07601-3922
Web: www.masterbond.com

More from Adhesives & Sealants