Silicone Elastomer features electrical insulation properties.
Press Release Summary: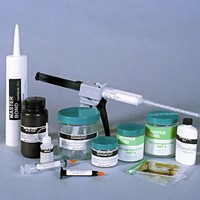 Suited for sealing and joining of metals, plastics, electrical insulations, protective coatings, and formed-in-place gaskets, Master Sil 700 silicone elastomer compound has dielectric strength of 530 V/mil and 400% elongation. Silicone adhesive/sealant features paste consistency and does not sag, slump, or run off surfaces. It cures at ambient temperatures to a flexible rubbery solid when exposed to atmospheric moisture and remains flexible over temperature range of -75 to 400°F.
---
Original Press Release:

Silicone Elastomer Combines Flexibility and High Insulation Properties



1/24/07

Master Bond Inc has developed Master Sil 700, a ready-to-use high performance silicone elastomer compound. This reliable and high quality silicone adhesive/sealant features a unique combination of flexibility and high temperature resistance. As such it is recommended for high performance sealing and joining of metals, plastics, electrical insulations, protective coatings and formed-in-place gaskets. With its excellent insulative properties, it has a dielectric strength of 530 volts/mil, and its remarkable 400% elongation it is also ideal for the encapsulation of sensitive electronic components as it provides ample vibration and shock protection.

Master Sil 700 has a paste consistency and will not sag, slump or run off surfaces. It cures at ambient temperatures to a flexible rubbery solid when exposed to atmospheric moisture and remains flexible providing excellent service over the broad temperature range of -75°F (-60°C) to 400°F (205°C). In addition to its superb electrical insulation properties, Master Sil 700 has excellent resistance to water and good sealing/adhesive properties, particularly to glass, plastics, metals and rubber, even including difficult to adhere silicone rubber itself. Master Sil 700s inherent flexibility allows for "repairability" when this property is needed. It is conveniently packaged in tubes, cartridges and 5 gallon (40#) pails.

About Master Bond:

Master Bond is a manufacturer of high performance adhesives, sealants, coatings, potting and encapsulation compounds and impregnation resins. The product line offers over 3,000 grades of specially designed formulations of acrylics, anaerobics, cyanoacrylates, epoxies, latex, polyamides, polyurethanes and silicone systems to provide an optimal solution for even the most extreme applications.

Contact Name: Jammes Brenner
Organization: Master Bond
Title: VP of Marketing
E-mail: technical@masterbond.com

More from Adhesives & Sealants