Silicone Dual Durometer Extrusion accommodates design needs.
Press Release Summary: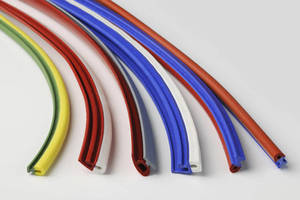 Offered as sealing solution, silicone dual durometer extrusion can be designed to application requirements regarding compression set, durability, temperature ranges, flexibility, weatherability, UV resistance and oxidation, and UL (flammability) ratings. FDA-compliant and NSF-certified product uses silicone material as dual durometer and is offered in standard as well as custom colors.
---
Original Press Release:

Lauren Manufacturing Produces Exclusive Silicone Dual Durometer



NEW PHILADELPHIA, Ohio – Continually focused on innovation and customer satisfaction, Lauren Manufacturing has developed an exclusive silicone dual durometer extrusion, a sealing solution suitable for multiple applications.



As a trusted supplier to the fenestration industry, Lauren was asked to design a new seal for a commercial door application from a well-known window and door company.  This company requested a seal that could slide into a channel, while also possessing great compression properties, durability, weatherability and high temperature resistance. Lauren's in-house RD offered silicone material as the best solution, while Lauren's application engineers worked on a dual durometer design for ease of installation and durability.



Although dual durometer processes are extruded every day at Lauren, using silicone material as a dual durometer is a new and exclusive process that Lauren developed and can now offer to its customers. Offering this solution keeps Lauren on the list of exclusive manufacturers. As industry needs change, Lauren is able to react with best practices and new technologies to solve the toughest problems.



A silicone dual durometer seal designed specifically for your application offers many benefits, including:



• Excellent Compression Set



• Durability



• Extreme Temperature Ranges and Flexibility



• Weatherability



• UV Resistance and Oxidation



• UL (Flammability)



• FDA Compliant and NSF Certified



• Standard and Custom Colors



At Lauren Manufacturing, customers benefit from our pursuit to continuously improve manufacturing processes and capabilities. Our customers can be assured that we will offer dynamic solutions that maintain the highest quality for each application. Call Lauren Manufacturing to discover all of our sealing solutions. 800.683.0676 or visit www.lauren.com



About Lauren Manufacturing: Lauren Manufacturing, a Lauren International company, specializes in solving simple to highly complex engineering and manufacturing problems for customers around the globe in need of outstanding sealing solutions. From providing state-of-the-art polymer products, to providing design engineering and manufacturing, business and IT support, logistics and more, Lauren has evolved from the gasket supplier of early years to a sophisticated, strategic business supply-partner. Lauren Manufacturing… Problem Solvers. Solution Providers.



Mindy Lyon

Marketing Manager

Lauren Manufacturing

Problem Solvers. Solution Providers.

P: 800.683.0676 | C: 330.204.9810 | F: 330.339.1515

www.lauren.com