Silicon Nitride insulates high-power electronic devices.
Press Release Summary: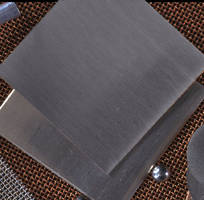 With thermal conductivity of 100 W/mK, Silicon Nitride serves as insulating substrate for power modules, high-frequency circuits, and LED mounting. High fracture toughness makes material resistant to impact and shocks. Product can be polished to surface roughness of Ra=0.02 µm and is wear-resistant. Supplied standard in sheet form measuring 100 x 100 mm with thickness of 0.32 mm, Silicon Nitride is also available as powder, rods, sheets, spheres, targets, and tubes.
---
Original Press Release:

High Thermal Conductivity Silicon Nitride Ideal as Insulating Substrate for High-Power Electronic Devices



Coraopolis, PA – Goodfellow has expanded its range of advanced ceramics with the addition of high thermal conductivity silicon nitride. With thermal conductivity of 100 W/mK, four times higher than standard silicon nitride, this material is emerging as a preferred insulating substrate for next-generation power modules, high-frequency circuits and LED mounting.



High thermal conductivity silicon nitride is nearly as light as silicon carbide but is significantly stronger, with high fracture toughness that makes it resistant to impact and shocks. It can be polished to a surface roughness of Ra=0.02µm and is exceptionally wear resistant.



The substrate size offered by Goodfellow is 100mm x 100mm with a thickness of 0.32mm. Different sizes and thicknesses may be available upon request. In addition to high thermal conductivity silicon nitride in sheet form, Goodfellow can supply standard silicon nitride as powder, rods, sheets, spheres, targets and tubes.



For more information about high thermal conductivity silicon nitride, call Goodfellow at 1-800-821-2870 or email info@goodfellowusa.com.



About Goodfellow

Goodfellow is a leading supplier of metals, polymers, ceramics and other materials to meet the needs of science and industry worldwide. The company specializes in supplying small quantities (a few grams to a few kilos) of metals and materials for research, prototype development and specialized manufacturing applications. Standard products can be found online at the comprehensive Goodfellow Catalog. In addition, Goodfellow is often able to supply larger quantities of metals and materials or items manufactured to specific requirements.



Web: goodfellowusa.com





Related