Silicon Bottle Stoppers meet Class VI and FDA standards.
Press Release Summary: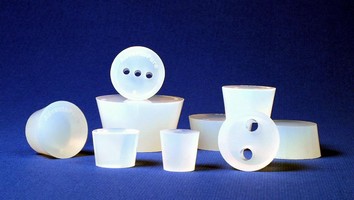 Resistant to cracking, particle migration, chemicals, and temperatures from -100 to +400°F, injection molded bottle stoppers suit equipment such as carboys, flexible storage systems, and laboratory apparatus. Stoppers feature smooth finish and gap-free surfaces to ensure true seal. Able to be sterilized by autoclave or gamma radiation, stoppers work well with glass, metal, or plastic containers and can be customized with holes for tubing inserts or vents.
---
Original Press Release:
New Injection Molded Silicone Stoppers from AdvantaPure Offer Purity & Application Flexibility
Available with Holes for Tubing Inserts or Ventilation Southampton, PA - AdvantaPure announces the immediate availability of injection molded silicone bottle stoppers for containers such as carboys, flexible storage systems, laboratory apparatus and bottles, and sampling and storage vessels. Manufactured in a clean room environment, they are biologically safe and ideal for pharmaceutical, biotech, biomedical, and laboratory environments. Stoppers from AdvantaPure are produced using a silicone elastomer that meets Class VI and FDA standards and does not contain any animal ingredients. The stoppers provide longer life expectancy and more consistent performance than parts made from rubber or similar materials. A smooth finish and gap-free surfaces ensure a true seal and a secured environment. AdvantaPure stoppers resist cracking, particle migration, chemical attack, and a wide range of temperatures - from -100°F (-73.3°C) to 400°F (204.4°C). The stoppers work well with containers of glass, metal, or plastic and are sterilizable by autoclave or gamma radiation. Most sizes within the range of numbers 2 through 12 are stocked, and custom options include cored holes for tubing inserts or vents. Stoppers can be provided ready to use with tubes inserted and secured into place. For more information on AdvantaPure's Injection Molded Silicone Stoppers, contact the team at AdvantaPure, 145 James Way, Southampton, PA 18966; phone 888-755-4370 or 215-526-2151; fax 888-258-4293 or 215-526-2167; e-mail: sales@advantapure.com; product-specific web address: www.advantapure.com/bottle-stoppers.htm About AdvantaPure and NewAge® Industries AdvantaPure, a division of NewAge Industries, specializes in ultra-clean products for the pharmaceutical, biomedical, food, beverage, chemical, and cosmetic industries. All products are manufactured, stored, and shipped using the cleanest methods possible to ensure unsurpassed product purity. In business since 1954, NewAge Industries manufactures and fabricates thermoplastic and thermoset tubing and hose. The company offers one of the broadest product lines of tubing, hose, and fittings in the U.S., and its custom extrusion and fabrication services are unrivaled. NewAge Industries maintains a large inventory and prides itself on same-day shipment of 98% of orders for its core product lines. In 2006, NewAge initiated an ESOP (Employee Stock Ownership Plan) for the benefit of both its employees and customers.
More from Chemicals & Gases