Silicon Aspheric Lenses suit weight-sensitive IR applications.
Press Release Summary: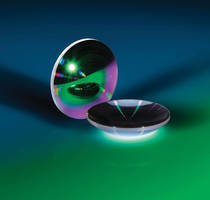 Offering alternative to ZnSe and brittle Germanium lenses, TECHSPEC® Silicon Aspheric Lenses are suited for midwave infrared applications. RoHS-compliant units provide diffraction-limited performance and withstand effects of harsh environments. Manufactured using optical-grade silicon substrate, lenses are available in six 25 mm diameter models, with focal lengths of 12.5, 25, and 50 mm and either 3-5 µm anti-reflection coating or uncoated.
---
Original Press Release:

TECHSPEC® Silicon Aspheric Lenses Ideal for Weight-Sensitive IR Applications



Excellent alternatives to ZnSe and Germanium lenses



Barrington, N.J. — Edmund Optics® (EO), the premier provider of optical components, introduces its new TECHSPEC® Silicon Aspheric Lenses. These lenses offer a high performance, lightweight solution for midwave infrared (MWIR) applications and provide an excellent alternative for costly ZnSe lenses and brittle Germanium lenses.



Silicone Aspheric Lens

Low Density and Dispersion



TECHSPEC Silicon Aspheric Lenses exhibit the mechanical and thermal properties needed to withstand the effects of harsh environments, which include temperature and pressure fluctuations. The lenses are manufactured using an optical grade silicon substrate, which is a low density material, making them ideal for weight-sensitive IR systems, including those found in many defense applications.



Diffraction-Limited Performance

RoHS compliant TECHSPEC Silicon Aspheric Lenses provide diffraction-limited performance. The lenses are available in six different 25 mm diameter models. Si Aspheric Lenses are offered in focal lengths of 12.5 mm, 25 mm and 50 mm with either a 3-5 µm anti-reflection (AR) coating or uncoated. TECHSPEC Silicon Aspheric Lenses are in-stock and available for immediate delivery for fast turnaround and excellent value.



About EO:

Edmund Optics® (EO) is a leading producer of optics, imaging, and photonics technology for R&D, electronics, semiconductor, pharmaceutical, biomedical, and military markets around the globe. EO is the world's largest supplier of off-the-shelf optical components. Customers can purchase items by contacting EO at 1-800-363-1992, via the catalog, or via the website at www.edmundoptics.com



Company Contact:

Kirsten Bjork-Jones

Director Global Marketing Communications

Edmund Optics®, Inc.

101 East Gloucester Pike

Barrington, NJ 08007 U.S.A.

Phone: 1-800-363-1992

Fax: 1-856-573-6295

email: kbjork-jones@edmundoptics.com



European Contact:

Agnes Huebscher

Director European Marketing

Edmund Optics

Zur Giesserei 8

76227 Karlsruhe, Germany

Tel.:   +49 (0)721-62737-38

Fax:   +49 (0) 721 6273750

E-Mail:   AHuebscher@edmundoptics.de

More from Cleaning Products & Equipment