Silica Microspheres are offered in sizes down to 1.5 microns.
Press Release Summary: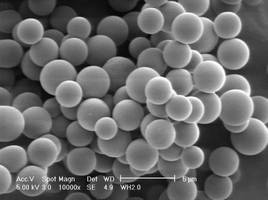 Supplied as dry powders in sets of 5 with each vial containing 0.2 g, certified range of silica microspheres are suited for applications in areas such as drug delivery, respiratory studies, and filter testing. They can be used as either wet suspensions or in dry form and are traceable to NIST international reference standard.
---
Original Press Release:

Whitehouse Scientific Introduces New Certified Silica Microspheres



Chester, UK: Whitehouse Scientific has extended its range of glass microspheres from 10 microns down to 1.5 microns with the addition of a new certified range of silica microspheres. In addition to their use in particle sizing, these silica microspheres have applications in areas such as drug delivery, respiratory studies and filter testing. Supplied as dry powders in sets of five with each vial containing 0.2 g, they can be used as either wet suspensions or in the dry form.

Highly spherical and having a narrow size distribution, the new microspheres are traceable to the NIST international reference standard using a unique precision microscope method that corrects for any pixel asymmetry in the camera sensor.

Analytical precision is confirmed using certified discs on an NPL (National Physical Laboratory, UK) particle reference graticule and 3-dimensional NIST-traceable latex standards.

For detailed information about Whitehouse Scientific's range of calibration standards please go to www.whitehousescientific.com

About Whitehouse Scientific

Whitehouse Scientific is a leading producer of glass microspheres for calibration and is the highest ranking European certification laboratory for primary methods of particle size analysis. The company's standards cover all particle sizing techniques including laser diffraction, Coulter methods, optical sizing, sieve calibration and image analysis. Most of these reference materials are NIST-traceable. They range in size from 0.1 micron to 5.0 millimetres and are available as single sizes or broad distribution standards. In addition, Whitehouse offers a unique calibration procedure for NIST-traceable measurement of filter apertures between 3 and 1000 microns, and also produces general purpose research grade microspheres.

Whitehouse Scientific has been producing calibration microspheres for more than 25 years. Founder and managing director Dr Graham Rideal is a past chairman of The Filtration Society, and is now active as its Science Correspondent. He is a member of the 'Editorial Advisory Board' for Filtration News Magazine, USA.www.whitehousescientific.com

More from Electrical Equipment & Systems