Silestone by Cosentino Launches Loft Series in Brooklyn and Silver Lake Colors
Press Release Summary: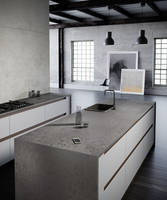 Available in both polished and suede finishes
Offers a fresh, contemporary take on the industrial and architectural look of concrete and cement
A new raw finish, combining the artfully unfinished look and feel of industrial materials with a matte texture that is smooth to the touch
---
Original Press Release:
Silestone by Cosentino Introduces Industrial-Inspired Loft Series
New York, Feb. 15, 2019 /PRNewswire/ -- Silestone by Cosentino, the world's leading brand in quartz surfaces, expands its existing color offerings with the Loft Series, a sophisticated range of colors that offers a fresh, contemporary take on the industrial and architectural look of concrete and cement. This new series follows the tremendous success of the Dekton Industrial Collection – a tribute to the beautiful imperfections of stone and metals at various stages of aging – launched to the market in 2017.
The Silestone Loft Series features a new Raw finish, combining the artfully unfinished look and feel of industrial materials like concrete and cement with a matte texture that is smooth to the touch. Unlike the materials that inspired the design of the Silestone Loft Series, Silestone boasts unparalleled performance that sets the brand apart in the natural quartz market: high resistance to impact and scratching; manufactured in large formats; and versatility of application.
"The industrial looks in Cosentino's current offering have been so well received by the Architecture and Design community, and these two new colors for Silestone are very much in the same vein," says Eduardo Cosentino, CEO of Cosentino North America and executive vice president of global sales for Cosentino Group. "The Loft Collection is a result of hours of hard work by our R&D team, and we're delighted to finally unveil them."
The two new Silestone Loft Collection colors are:
Brooklyn: An intense gray finish replete with rich contrasts and effects, Brooklyn was designed to take center stage in a space. It features a striking industrial look that is both rustic and elegant
Silver Lake: A neutral yet bold hue with a unique personality. Silver Lake features a white background superimposed with soft and elegant gradations of gray
Silestone retails from $49 to $110 per square foot, depending on color, thickness and finish and is available in both polished and suede finishes. It is available at Cosentino Centers, kitchen and bath dealers and Home Depot and Lowe's stores nationwide. Silestone quartz offers a 25-year limited manufacturer's warranty.  For more information, visit www.silestoneusa.com.
To download images of the new Silestone Loft Series, click here.
About Silestone® by Cosentino
Silestone® by Cosentino, the worldwide brand leader in quartz surfaces, consists of more than 90% natural quartz. This high-tech material is highly resistant to stains, knocks, scratches and has also a low level of fluid. Silestone® is manufactured with the technologically advanced process N-Boost, which allows easy cleaning and easy maintenance of the quartz surface and offers great intensity of colour and brightness. Silestone® comes in over 90 colours, four textures and several different formats. Silestone®surfaces are highly suitable for the kitchen, bathroom and demanding buildings such as hotels, restaurants, hospitals, laboratories etc. Silestone® also includes a recycled series called Eco Line which is manufactured with at least 50% recycled raw materials.
About Cosentino Group
Cosentino Group is a global, family-owned company that produces and distributes high value innovative surfaces for architecture and design. As a leading company, Cosentino imagines and anticipates together with its customers and partners design solutions that offer value and inspiration to peoples' lives. This goal is made possible by pioneering brands that are leaders in their respective segments such as Silestone®, Dekton®, and Sensa by Cosentino®. Technologically advanced surfaces create unique designs for the home and public spaces.
The group bases its development on international expansion, an innovative research and development program, respect for the environment and sustainability, and its ongoing corporate commitment to society and the local communities where it operates, education, equality and health & safety.
Cosentino Group currently distributes its products and brands in more than 80 countries from its headquarters in Almeria, Spain. Currently Cosentino is present in 32 countries with its own assets in 29 of them. The group has seven factories (six in Almeria and one in Brazil), one intelligent logistics platform in Spain and more than 120 commercial and business units throughout the world. More than 90% of Cosentino Group's financial turnover comes from international markets.
Source Cosentino
Contact:
Sharp Communications, Inc.,
(212) 829-0002;
Lauren Higgins, ext. 134,
Austin Durling, ext. 133
ad@sharpthink.com
Web Site: http://www.cosentino.com
More from Software