SignalTech Products feature Audible/visual product combinations.
Press Release Summary: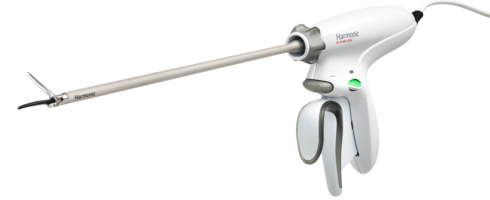 Offering a variety of audible and visual industrial signaling products, SignalTech from Federal Signal is economical and useful for general signaling safe area markets. SignalTech line includes products like Strobe and LED lights, multiple flash pattern LED signals, audible and visual product combinations, LED traffic light systems, electromechanical horns and bells and motor-driven sounders.
---
Original Press Release:
Ethicon Launches HARMONIC® HD 1000i Shears to Address Challenges in Complex Surgical Procedures
Ethicon* announced today the U.S. launch of a new high precision ultrasonic device, HARMONIC® HD 1000i Shears, designed to address unique challenges in complex surgical procedures, especially those involving complex thoracic and colorectal issues where precision is critical. Featuring unmatched precision†, unparalleled strength‡, and optimal efficiency, the HARMONIC® HD 1000i is Ethicon's flagship energy device, building upon the most advanced ultrasonic portfolio on the market.

HARMONIC® HD 1000i is designed for use in a variety of surgically complex procedures and specialties including, Thoracic, Hepato-pancreato-billary, Colorectal, and Gynecologic Oncology; enhancing surgeons' ability to handle multiple jobs with expert precision and superior dissection. Because of its advanced dissection, transection and sealing capabilities it has the potential to reduce instrumentation needs by replacing a number of other devices used in open and laparoscopic surgery.

Today's announcement was made at the American College of Surgeons' (ACS) Annual Clinical Congress, and is the latest example of how Ethicon is advancing technology to give surgeons greater control, access and accuracy during surgical procedures in an effort to improve outcomes for patients. At this year's ACS Congress, Ethicon is continuing to drive awareness of the value and importance of surgical intervention and innovation involving certain cancerous conditions.

Of the 15.2 million new cases of cancer worldwide in 2015, over 80 percent of cases were estimated to need surgery, some several times.[1 In addition to launching new products aimed at complex surgical procedures, Ethicon announced (in August) new research and clinical studies to understand and advance the use of minimally-invasive treatment options in lung cancer. As a complement to this strategy, Ethicon has expanded into novel interventional therapies with the acquisition of NeuWave Medical, Inc. in April 2016. NeuWave Medical manufactures and markets minimally invasive soft tissue microwave ablation systems that are currently used by physicians in over half of the top cancer centers in the U.S.

"At Ethicon, we challenged ourselves to identify the unmet needs of our customers by speaking with surgeons to understand their concerns in performing complex surgical procedures including oncology. Today, we are proud to launch a unique device that will help improve the clinical outcomes of patients, while enabling procedural efficiencies that can benefit the health system," said Andrew Ekdahl, President, Ethicon US. "HARMONIC® HD 1000i is the latest example of our commitment to developing meaningful innovations that reach more patients and restore more lives."

Built to take on the most complex procedures, the unique blade of the HARMONIC® HD1000i delivers more secure seals[i, even in the most challenging hemostasis conditions, and its increased sealing speed, multi-functionality, and simplified steps allow for maximum performance[ii. Its impressive features make it ideal for a variety of surgically complex procedures, where precision is key. For more information visit the HARMONIC® HD 1000i product page.

About Ethicon

From creating the first sutures, to revolutionizing surgery with minimally invasive procedures, Ethicon, part of the Johnson & Johnson Medical Devices Companies, has made significant contributions to surgery for more than 60 years. Our continuing dedication to Shape the Future of Surgery is built on our commitment to help address the world's most pressing health care issues, and improve and save more lives. Through Ethicon's surgical technologies and solutions including sutures, staplers, energy devices, trocars and hemostats and our commitment to treat serious medical conditions like obesity and cancer worldwide, we deliver innovation to make a life-changing impact.

Learn more at www.ethicon.com and follow us on Twitter @Ethicon.

Ethicon is transforming energy solutions to make measurable clinical and cost-of-care improvements for healthcare providers and patients globally. Our focus is to solve unmet surgical needs through our in-depth knowledge of tissue and energy sciences to help improve patient outcomes. Ethicon offers the most complete advanced energy portfolio for open and laparoscopic procedures with our HARMONIC® and ENSEAL® portfolios.

Investor Relations Contact:
Jason Valmore 
Office: 732-524-3709
jvalmor@its.jnj.com
Media Contact:                          
Krys Monaco 
Office: 513-337-8256
kmonaco@its.jnj.com

*Ethicon represents the products and services of Ethicon, Inc., Ethicon Endo-Surgery, LLC and certain of their affiliates. Ethicon Endo-Surgery, Inc. is the legal manufacturer of HARMONIC® HD 1000i Shears.
 
More from Agricultural & Farming Products