SignalFire Flow Totalizer features built-in user-configurable clock.
Press Release Summary: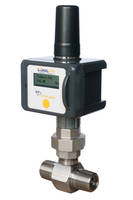 SignalFire Flow Totalizers are enclosed in weather-tight polycarbonate housing. Suitable for use in oil and gas, metals and mining, chemical, power, food and beverage industries, units provide the availability of data and diagnostics locally and remotely using SignalFire Gateway with Modbus standard protocol. These Totalisers connect to inductive turbine flow meters for flow measurements and can store up to thirty-day log of daily flow totals for analysis.
---
Original Press Release:
Intrinsically Safe, Wireless Flow Totalizer from SignalFire Provides Field Display of Flow Rates and Totals from Flow Meters
SignalFire Wireless Telemetry introduces a new Intrinsically Safe Wireless Flow Totalizer that connects to industry-standard inductive turbine flow meters (such as the AW-Lake TW Turbine) to measure, locally display, wirelessly transmit and archive flow measurements. Data and diagnostics are available locally using the display as well as remotely from a SignalFire Gateway using Modbus standard protocol.
Enhancing new or existing turbine meters with wireless data management capabilities, the SignalFire Flow Totalizer is ideal when an operator must check flow rates or totals in addition to tracking data in a SCADA system. For example, when offloading a tank, a local technician can use the Wireless Flow Totalizer to measure before/after totals of pumped fluid. Using an external pushbutton, workers can cycle through a backlit LCD display to get appropriate readings for flow and total.
Scott Keller, Founder and General Manager of SignalFire Wireless Telemetry, notes "We designed the Wireless Flow Totalizer to easily fit on standard turbine type meters to report daily flow volumes, minimizing complex programming by the system integrator."
Featuring a built-in user-configurable, real-time clock for daily contract hour setting, the Flow Totalizer maintains an internal thirty-day log of daily flow totals for historical analysis or backup storage. Units are battery-powered for long life (5+ years) and require no external power supply. Enclosed within a weathertight, high-strength polycarbonate housing that withstands outdoor elements, the Intrinsically Safe Wireless Flow Totalizer is hazardous location classified for Class 1, Division 1 safe operation. Easy to install and maintain, units are ideal for use in the 1.
To find out more about the SignalFire Flow Totalizer, download the data sheet at http://www.signal-fire.com/wp-content/uploads/2017/07/SF-Flow-Meter-Totalizer-DS-TOTALIZERDS062817.pdf?53ab37 or contact us at info@signal-fire.com
About SignalFire Wireless Telemetry
SignalFire Wireless Telemetry designs and manufactures wireless telemetry products that enable robust, long-distance wireless communication connecting multiple devices in challenging outdoor environments. In 2015, the company became a part of the TASI Group and the TASI Flow Division. SignalFire joins the TASI Flow family, a global leader in flow instrumentation, with brands including TRICOR Coriolis, AW Gear Meters, KEM Küppers, LitreMeter, and Vögtlin Thermal Mass Flow Meters and Controllers. For more information about SignalFire, visit http://www.signal-fire.com/.
About the TASI Group
The TASI Group of Companies is comprised of three technologically advanced product platforms commonly linked by a disciplined focus on Test, Measurement, and Assembly. Each TASI company delivers products and services to today's world manufacturing environments, focusing on Automotive, Medical Devices, Oil and Gas, Plastic Containers, Consumer and General Industrial markets. For more information about the TASI Group, visit their Web site at www.tasigroup.com.
Engineering Contact:
Scott Keller
SignalFire Wireless Telemetry
43 Broad St., Unit C-300
Hudson, MA 01749
(978) 212-2868
More from Agricultural & Farming Products