Signal Multiplexer switches up to 576 channels.
Press Release Summary: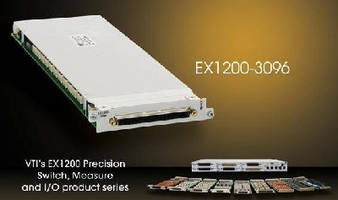 Designed for scanning multiple points to common bus in either 2- or 4-wire configurations, Model EX1200-3096 supports thermocouple, RTD, and thermistor measurements, and is suited for testing cable harnesses, semiconductors, and PCBs. Switch and measurement operations can be tightly synchronized as part of module's embedded scan list to minimize processor overhead and optimize test throughput. Capacitive discharge relays keep high voltages from disturbing sensitive measurement points.
---
Original Press Release:

VTI's New High-Density Signal Multiplexer



Irvine, CA - October 14, 2009 - VTI Instruments Corporation is pleased to announce the release of its latest high-density switch module, the EX1200-3096. As part of VTI's EX1200 Precision Switch, Measure and I/O product series, these modules can multiplex up to 576 channels in a 1U footprint.

"The EX1200-3096 can be used to efficiently measure very high channel counts, especially when used in conjunction with its built-in scan list capabilities," said Jon Semancik, VTI's Director of Marketing. "Additionally, this module can be seamlessly implemented across the entire EX1200 family, providing incredible density and scalability."

The EX1200-3096 is designed for scanning multiple points to a common bus in either 2- or 4-wire configurations. Switch and measurement operations can be tightly synchronized as part of the module's embedded scan list to minimize processor overhead and increase test throughput. The EX1200-3096 supports thermocouple, RTD and thermistor measurements and can be used for testing cable harnesses, semiconductors and PCBs. The specially designed capacitive discharge relays keep high voltages from disturbing sensitive measurement points.

An optional terminal block provides screw termination points for simplified external field wiring and includes a cold junction compensation reference for precise temperature measurements.

For more information, please visit: www.vtiinstruments.com/EX1200.aspx.

About VTI Instruments Corp.
VTI delivers precision instrumentation for electronic signal distribution, acquisition, and monitoring. ISO 9001 certified, the company serves the following key markets: aerospace, defense, and energy and power generation. VTI's technology allows its customers to optimize their capital investment through product longevity while ensuring unmatched measurement integrity and data reliability. With plants in the U.S., Europe and Asia, worldwide product support is provided through a network of VTI-certified engineering representatives. VTI is a sponsor member of the VXI Consortium and a strategic/founding member of the LXI Consortium.

Contact: Jon Semancik

Director of Marketing

VTI Instruments Corp.

Tel: 001.949.225.1942

Email: jsemancik@vtiinstruments.com

URL: www.vtiinstruments.com