Signal Isolator prevents erroneous PLC input signals.
Press Release Summary: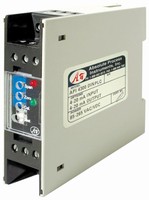 Offering full 3-way (power/input/output) isolation, API 4300 DIN PLC solves isolation and ground loop problems when used with PLCs that have single-ended, 4-20 mA inputs. It can be selectively wired for sinking or sourcing I/O, allowing use with either passive or powered 4-20 mA signal sources. Features include input/output LoopTracker® LEDs and functional test pushbutton that lets users test output independent of input signal.
---
Original Press Release:

New API 4300 DIN PLC Signal Isolator



The new API 4300 DIN PLC signal isolator solves isolation and ground loop problems when used with PLCs that have single-ended 4-20 mA inputs. Many PLCs have a common ground for their analog signal inputs. This often results in erroneous and unpredictable input signals to the PLC due to varying ground potentials at the sensors. The API 4300 DIN PLC offers full 3-way (power/input/output) isolation that can eliminate ground loop problems and restore proper PLC function. Additionally, the API 4300 DIN PLC can be selectively wired for sinking or sourcing I/O. This allows the API 4300 DIN PLC to be used with either passive or powered 4-20 mA signal sources and be connected to PLC 4-20 mA inputs that are either powered or passive. Exclusive features include input/output LoopTracker® LEDs and a functional test pushbutton that allows you to test the output independent of the input signal. Free factory application assistance and a lifetime warranty are included.

Absolute Process Instruments, Inc., Libertyville, IL
Phone 800-942-0315 www.api-usa.com

More from Material Handling & Storage