Signal Conditioners and Electronics support TEDS Sensors.
Press Release Summary: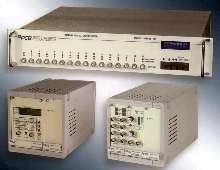 Rack mountable TEDS (Transducer Electronic Data Sheet) multi-channel and dual-mode signal conditioners are available for use with ICP® and charge output vibration, pressure, and force sensors. In-Line Charge Converters are available with TEDS capabilities, which enable the devices to store and recall TEDS data for attached sensor. In-Line TEDS Adaptor features interface chip that allows information relative to attached sensor to be stored.
---
Original Press Release:

Signal Conditioners and Electronics Support TEDS Sensors


April 12, 2004, Depew, NY USA - The Electronics Division of PCB Piezotronics offers signal conditioning and other electronic products that support TEDS (Transducer Electronic Data Sheet) "smart" sensors (IEEE P1451.4 standard). TEDS sensors are mixed mode (analog/digital), self-identifying transducers that contain fields that fully describe the type, operation, and attributes of the transducer, and are typically used in large channel count modal and structural testing applications.

A line of rack mountable TEDS multi-channel and dual-mode signal conditioners are available for use with ICP® and charge output vibration, pressure, and force sensors. In-Line Charge Converters convert charge mode piezoelectric sensor signals into low-impedance voltage signals for operation with ICP® sensor signal conditioners or readout devices which have an ICP® sensor input. In-Line Charge Converters are available with TEDS capabilities, which enable the devices to store and recall TEDS data for the sensor which is attached.

New In-Line TEDS Adaptor features an interface chip that which allows the identification, location, sensitivity, and other information relative to the attached sensor to be stored. The device allows ICP® accelerometers that do not have TEDS functionality to be used in TEDS applications.

For additional information, contact the Electronics Division of PCB Piezotronics, Inc., phone: 800-828-8840 or 716-684-0001; E-mail: e[email protected]; fax: 716-685-3886, or visit our web site at www.pcb.com.

PCB and ICP arc registered trademarks of PCB Group Inc.

PCB PIEZOTRONICS INC. - ELECTRONICS DIVISION
3425 Walden Avenue, Depew, New York 14043-2495 USA
Toll Free: 800-828-8864 Fax: 716-684-0987
24-Hour SensorLine(TM): 716-684-0001
E-mail [email protected]
Website: www.pcb.com
ISO 9001 CERTIFIED