Signal Conditioner takes signals from RCCs.
Press Release Summary: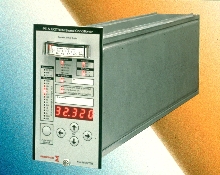 Single-channel Model 2775B bench-top amplifier accepts inputs from PE, ISOTRON or remote charge converters (RCCs) with input range from 0.01 to 100,000 engineering units. It operates from input power of 90-240 Vac. Setup is accomplished manually on unit's front panel or via RS232 interface and optional software. Unit has switchable isolation, gain range of 0 to 10,000, and frequency response of 120 kHz. Up to 6 units can be installed in 19 in. rack.
---
Original Press Release:

Model 2775B Signal Conditioner from Endevco Accepts Input from PE, ISOTRON(R) or Remote Charge Converters


SAN JUAN CAPISTRANO, Calif. - February 4, 2002 - Endevco's new Model 2775B signai conditioner is a bench-top, single-channel PE/ISOTRON amplifier.

The unit accepts input from PE, ISOTRON or remote charge convertors (RCCs) with a wide full-scale input range from 0.01 to 100,000 Engineering Units. Setup is accomplished manually on the unit's front panel or via an RS-232 computer interface and optional controlling software. The unit is designed to operate from input power sources of 90-240 VAC/50 Hz to 400 Hz. Up to six 2775B Signal Conditioners can be installed in a 19" Endevco Model 4948A rack.

The signal conditioner provides three standard outputs: (1) AC output voltage proportional to input, (2) DC output voltage proportional to input, and (3) a servo output that provides a constant current, typically used in servo or shaker control loops/systems. AC and DC outputs are programmable from 1 to 10 volts.

The Model 2775B signal conditioner accepts two optional filter modules. Filter Module 35771 is a plug-in, 4-pole, Butterworth filter that is jumper-configurable for high-pass, low-pass or band-pass filtering. Filter Integrator Module 35818 provides a capability for single or double integration of the input vibration signal.

Additional 2775B features include switchable isolation, a gain range of 0 to 10,000, and a wide frequency response of 120 khz bandwidth (-3 dB corner).

Optional Model 35933 software provides an RS-232 interface for the Windows-based controlling software to configure up to 20 Model 2775B units.

The aluminum-encased unit weighs approximately 4 pounds and measures 5.0 x 2.78 x 13 inches (12.7 x 7.1 x 33 centimeters).

Endevco is the world's leading designer and manufacturer of dynamic instrumentation for vibration, shock and pressure measurements. The company's comprehensive line of piezoelectric, variable capacitance, piezoresistive, ISOTRON®, and servo force balance accelerometers are used to solve measurement problems in a wide variety of industries including aerospace, automotive, defense, medical, industrial and marine. Other products include pressure transducers, microphones, electronic instruments, and calibration systems.

Endevco is a subsidiary of U.K.-based Meggitt PLC, an international group of companies renowned for their specialized engineering skills.


More from Sensors, Monitors & Transducers