Signal Conditioner suits linear displacement transducers.
Press Release Summary: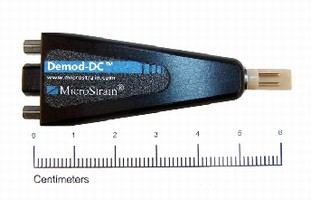 Intended for micro-miniature DVRT® displacement sensors, DEMOD-DC® In-Line Signal Conditioner filters incoming transients from line voltage and supplies sine wave excitation to transducer. Operating on 6-16 Vdc, device uses 3-wire connection and includes digitally trimmed offset and gain. Precision demodulator provides rectification and differential amplification, and analog output is filtered and buffered to provide clean output signals at up to 20 KHz.
---
Original Press Release:

MicroStrain Announces DEMOD-DC(TM) In-Line Signal Conditioner for DVRT® Linear Displacement Transducers



Advances in electronic design enables MicroStrain to shrink signal conditioning electronics into a connector

Williston, Vermont - April 11, 2006 - MicroStrain Inc, announces the introduction of the DEMOD-DC(TM) In-Line Signal Conditioner for its line of micro-miniature DVRT® displacement sensors. With only three connections: power, ground and analog out, the DEMOD-DC(TM) makes MicroStrain's inductive position sensors as easy to use as potentiometers.

Operating from a wide range of input voltages, the DEMOD-DC(TM) filters incoming transients from the line voltage and supplies a sine wave excitation to the transducer. The precision demodulator provides rectification and differential amplification; digitally trimmed offset and gain optimizes the DEMOD-DC(TM) to the transducer, and the analog output is filtered and buffered to provide clean high level output signals at up to 20 KHz.

Features and Benefits:
o Miniature size enables signal conditioner to be located close to the transducer, reducing the susceptibility to noise injection
o Simple three wire connection provides easy plug and play implementation
o Compatible with MicroStrain's full line of DVRT® micro-miniature displacement transducers
o Can be configured for use with MicroStrain's wireless sensor networks
o Low cost, rugged, compact design lends itself to OEM applications
o Digitally trimmed offset and gain
o Frequency response DC to 20 KHz
o Can be configured to operate at high inertial loads, up to 10,000 g
o Operates on a wide input voltage range from 6 to 16 volts DC

Applications:
o Used with MicroStrain's DVRT® micro-miniature displacement transducers for:
o Control elements for automotive and robotic systems
o Process control for production line monitoring
o Dimensional gauging for quality control applications
o Measuring strain and displacement in materials science and civil structures
o Biomedical strain measurement of bone and soft tissue

About MicroStrain Inc:
MicroStrain is a privately held corporation based in Williston Vermont. MicroStrain produces smart, wireless, microminiature displacement, orientation and strain sensors. Applications include advanced automotive controls, health monitoring, inspection of machines and civil structures, smart medical devices and navigation/control systems for unmanned vehicles. For further information please visit MicroStrain's website at www.microstrain.com or call 802-862-6629.

Single piece price of the DEMOD-DC(TM) is $295.00. DVRT linear displacement sensors range in price from $245 to $800+, depending upon range, resolution and size. OEM pricing available upon request.

Contact information:
Michael Robinson
V.P. Sales & Marketing
MicroStrain Inc
310 Hurricane Lane, Unit 4
Williston, VT 05495
Tel: +1-802-862-6629
Fax: +1-802-863-4093
Email: mirobinson@microstrain.com
Web: www.microstrain.com

Related