Signal Conditioner is software configurable.
Press Release Summary: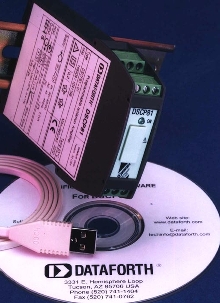 DSCP81 voltage/current input signal conditioner measures voltages up to ±1000 Vdc or currents up to ±l00 mA. Output signal can be configured for voltages up to ±l0 Vdc or currents up to ±20 mA. Input/output type, measurement range, and alarm relay are software configurable. Signal conditioner protects measurement and control signals, as well as connected equipment from dangerous and degrading effects of noise, transient power surges, and internal ground loops.
---
Original Press Release:
Configurable Voltage/Current Input Signal Conditioner Interfaces Voltages up to 1000VDC with Alarm Relay

Dataforth Corporation, Tucson, Arizona announces the introduction of its new DSCP81 isolated and software configurable voltage/current input signal conditioner. Each signal conditioner is designed for measuring voltages up to ±1000VDC or currents up to ±100mA. The output signal can be configured for voltages up to ±10VDC or currents up to ±20mA. A fully configurable alarm relay output is included. The input/output type, measurement range, and other features are software configurable. The signal conditioner is designed to protect valuable measurement and control signals as well as
connected equipment from the dangerous and degrading effects of noise, transient power surges, internal ground loops, and other hazards present in industrial environments.

The DSCP81 signal conditioner can be easily configured to the specific measuring task using the DSCX-787 and DSCX-587 interface cables, and the menu-driven DSCX-557 configuration software that runs on Windows 3.1x, 95, 98, NT, 2000, or XP. Configurable features include: selection of voltage or current input; input measurement range; selection of voltage or current output; output signal range, output signal polarity; input filter response time; 50Hz or 60Hz mains ripple suppression;
linearization characteristic; alarm mode of action; alarm trip point type, level and hysteresis; and alarm energize/de-energize delay. In addition, zero can be adjusted from -1% to 5%, and span can be adjusted from -5% to 1%. The DSCX-557 configuration software has a comprehensive help file and allows query, printout and saving of configuration settings, display of input measurement value, and display of interpolation table points for linearization.

DSCP81 linearization software is very powerful, allowing the full range input value to be divided into 2 percent steps for a total of 50 unique input-to-output correlations. Output values can be freely assigned to fixed input values allowing the transfer characteristic to be non-monotonic. Five pre-programmed linearization transfer functions are included with the software; linear, special which allows up to 50 user selectable I/O transfer values, input to the power of 1/2, input to the power of 3/2, and input to the power of 5/2.

The alarm relay output is a gold flashed silver alloy single-pole contact having a rating of 2A at 250VAC or 125VDC. The alarm function is fully software configurable. Trip point type can be set to inactive, low alarm or high alarm. Trip point level is settable from -10% to 110% of input span with a
settable hysteresis value of 0% or 100%. The alarm energize/de-energize delay can be set individually from 0.1 s to 1000s. The relay contact can be programmed to be open or closed in alarm condition and at power loss.

The DSCP81 has 3700Vrms transformer isolation between input to output and input to alarm relay, and between either input or output to power supply. The signal conditioner accepts external universal power of either 24 to 60V AC/DC or 85 to 230V AC/DC. Packaging is a compact DIN rail mountable case measuring only 2.72 x 0.69 x 4.49 inches (69.2 x 17.5 x 114 mm). Accuracy is 0.1 % typical, and operating temperature range is -25°C to +55°C. Prices for the DSCP81 start at $286.

For additional information, call 800-444-7644 toll-free or visit our web center at www.dataforth.com. Dataforth Corporation, 3331 E. Hemisphere Loop, Tucson, AZ 85706 USA. Telephone 520-741-1404,
Fax 520-741-0762, E-mail sales@dataforth.com.

Dataforth Corporation was established in 1984 and is a worldwide leader in the design and manufacture of signal conditioning and data communications products for industrial and institutional
markets. The Company offers a broad range of analog and digital I/O modules, two-wire transmitters, industrial data modems, and modem systems.

3331 East Hemisphere Loop; Tucson, Arizona 85706; (520) 741-1404; FAX (520) 741-0762

E-Mail: corp@dataforth.com; Website: www.dataforth.com
More from Machinery & Machining Tools