Signal Conditioner has digitally stable circuit.
Press Release Summary: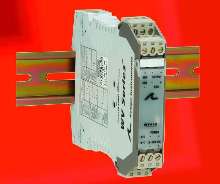 High-density, DIN rail-mounted Model WV418 accepts RTD inputs and provides analog output proportional to input signal. It is field configurable via DIP switches for 2/3/4 wires, Pt100 RTDs of either alphas of 0.00385/0.00392, and copper Cu10 RTDs. Analog outputs include 0-10 Vdc and 0-20 mA, configurable for 95% of range. TouchCAL(TM) technology replaces mechanical/thermal variability of potentiometers and enables 100% adjustment of setpoints and deadbands.
---
Original Press Release:

Eurotherm, Action Instruments Announces New, Field Configurable, RTD Input Signal Conditioner with TouchCAL(TM) Technology; WV Series Model WV418


SAN DIEGO, CA - Eurotherm Action Instruments announces the immediate availability of the new WV Series, Model WV418, RTD Input Signal Conditioner with TouchCAL(TM) technology. This high density, field configurable, DIN rail mount device accepts RTD inputs and provides an analog output of either voltage or current that is proportional to the input signal.

Model WV418 is powered by a flexible 9 to 30 V DC and is field configurable via DIP switches for 2-, 3-, or 4-wire, Pt100 RTDs of either alphas of 0.00385 or 0.00392, as well as Copper Cu10 RTDs. Analog outputs include 0-10VDC, 0-20mA or 4-20mA and are fully configurable for the up to 95% of the range. This outstanding flexibility ensures that the device is available off-the-shelf, just when you need it, thereby reducing your inventory carrying costs. Configuration via DIP switches is remarkably simple and enables maximum setpoint resolution. The WV418 is supported by a LIFETIME WARRANTY.

TouchCAL(TM) technology, a standard feature on the WV418, replaces the mechanical and thermal variability of potentiometers with the electronic stability of a microprocessor. This enables 100% adjustment of setpoints and deadbands and carries with it a string of benefits. It provides a reliable, digitally stable circuit ensuring better long-term performance and reliability. Calibration is as quick and easy as inputting the setpoint and deadband levels and pressing a recessed button to store the values in non-volatile memory.

About Eurotherm

Eurotherm, part of the Production Management division of Invensys plc, is one of the world's leading automation and controls companies and a major supplier to the world's processing and equipment manufacturing industries. An ISO 9000 company, Eurotherm's products include temperature and process controllers and indicators, data recorders and data acquisition systems, signal conditioning and complete process automation solutions.

About Invensys plc:

Invensys is a global leader in production technology. The group helps customers improve productivity, performance and profitability using innovative services and technologies and a deep understanding of their industries and applications.

Invensys Production Management works closely with customers to increase performance of production assets, maximize return on investment in production and data management technologies and remove cost and cash from the supply chain. The division includes APV, Avantis, Eurotherm, Foxboro, IMServ, SimSci-Esscor, Triconex and Wonderware. These businesses address process and batch industries - including oil and gas, chemicals, power and utilities, food and beverage, and personal health care - and the discrete and hybrid manufacturing sectors.

Invensys Rail Systems is a global leader in the design, manufacture, supply, installation, commissioning and maintenance of safety related rail signaling and control systems as well as a complete range of rail signaling and communications products. The business includes Westinghouse Rail Systems Limited (WRSL), Dimetronic Signals, Safetran Systems, Burco Services, Westinghouse Signals Australia and Foxboro Transportation. WRSL was recently awarded two contracts valued at more than $1.3 billion for the renewal of signaling on the London Underground.

Invensys operates in more than 60 countries, with its headquarters in London. For more information, visit www.invensys.com.

More from Packaging Products & Equipment