Signal Conditioner equalizes up to 30 in. of FR4.
Press Release Summary: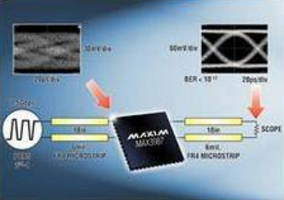 Used as equalizer, preemphasis driver, or redriver, quad 1-8.5 Gbps Model MAX3987 equalizes up to 30 in. of FR4 or 10 m of 24 AWG cable at I/O. Device features signal-detect and output-squelch capabilities, as well as I²C interface for programming preemphasis, output swing, and output polarity. Housed in 7 x 7 mm TQFN package, IC operates from 3.3 V supply over -40 to +85°C range and is suited for 6.25 Gbps XAUI, 8.5 Gbps Fibre Channel, 6.0 Gbps SAS/SATA, and InfiniBand® DDR applications.
---
Original Press Release:

Programmable Quad Signal Conditioner Equalizes up to 30in of FR4 for XAUI, SAS/SATA, or Fibre Channel Links



Quad 1Gbps to 8.5Gbps signal conditioner equalizes up to 30in of FR4 at its I/O.

Maxim introduces a multiprotocol signal conditioner that can be used as an equalizer, preemphasis driver, or redriver to extend the reach of applications requiring data rates up to 8.5Gbps.

SUNNYVALE, CA - Maxim Integrated Products (NASDAQ: MXIM) introduces the MAX3987, a quad 1Gbps to 8.5Gbps signal conditioner for copper interconnects. Each channel can equalize up to 30in of FR4 or 10m of 24AWG cable at its input and output, with data rates up to 8.5Gbps. This versatile device can be used as a receive equalizer, preemphasis driver, or redriver, allowing it to be placed at the beginning, middle, or end of a link. Additionally, the MAX3987 features an I²C interface for programming the preemphasis, output swing, and output polarity of each channel; external pins can also be used to globally program these features. Designed as a multiprotocol solution, the MAX3987 facilitates IP reuse by enabling customers to use one design to address multiple markets. It is well suited for 6.25Gbps XAUI, 8.5Gbps Fibre Channel, 6.0Gbps SAS/SATA, and InfiniBand® DDR applications.

The MAX3987 has signal-detect and output-squelch capabilities. The device has a response time of 2ns to 5ns in fast signal-detect mode, making it compatible with out-of-band (OOB) signaling in SAS and SATA applications. A slow signal-detect mode is available for XAUI, Fibre Channel, and InfiniBand applications.

The MAX3987 is available in a 7mm x 7mm, 48-pin TQFN package, and has a pinout designed to minimize board space and optimize high-speed signal routing. The device is fully specified over the -40°C to +85°C extended industrial temperature range, and operates from a 3.3V supply over this range. The MAX3987 can also operate from a 2.5V supply over the 0°C to +85°C temperature range, thereby reducing power consumption by 25%. Prices start at $18.75 (1000-up, FOB USA).

An evaluation board that allows analysis of all channels is available. Please contact the factory for details.

Maxim Integrated Products is a publicly traded company that designs, manufactures, and sells high-performance semiconductor products. The Company was founded over 25 years ago with the mission to deliver innovative analog and mixed-signal engineering solutions that add value to its customers' products. To date, it has developed over 6300 products serving the industrial, communications, consumer, and computing markets.

Maxim reported revenue in excess of $1.6 billion for fiscal 2009. A Fortune 1000 company, Maxim is included in the Nasdaq 100, the Russell 1000, and the MSCI USA indices. For more information, go to www.maxim-ic.com.

Customer Service: 1-800-998-8800

More from Software