Signal Conditioner eliminates need for power supply.
Press Release Summary: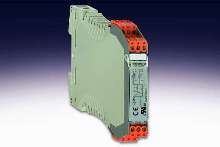 WAVEANALOG 2OLP dual output, loop-powered signal conditioner splits current input signal and isolating control signals while deriving power to operate from output 4-20mA current loop. It uses one 4-20 mA input to produce two 4-20 mA outputs. Product utilizes screw or tension clamp connection technology, and features pluggable connectors for quick installation. Isolation is provided between outputs and between output and inputs.
---
Original Press Release:

WAVEANALOG 2OLP, Dual Output Loop-Powered Signal Conditioner Added to Weidmuller's WAVESERIES Line


RICHMOND (June 4, 2003)-Weidmuller announces the introduction of the WAVEANALOG 2OLP, an output loop-powered signal conditioner for use "splitting" a current input signal and isolating control signals while deriving the power to operate from the output 4...20mA current loop. The WAVEANALOG 2OLP uses one 4...20mA input to produce two 4...20mA outputs. This is important for applications where designs utilize one or more of the 4...20mA signals for indication or a secondary device and the other current signal for control. This module also simplifies the application by eliminating the need for a power supply and associated wiring from the remote location.

As one of the newest additions to the WAVESERIES signal conditioner line, the WAVEANALOG 2OLP utilizes screw or tension clamp connection technology. Pluggable connectors allow easy, quick installation and maintenance while its design (17.5mm) allows higher density in panel construction. Isolation is provided between the outputs and between the output and inputs.

The WAVEANALOG 2OLP is ideal for remote sensing, which is commonly used in wastewater, chemical processing and mixing operations, food industries, and other processing applications. This 2OLP signal conditioner allows monitoring equipment such as chart recorders, panel meters and other devices to be added to an application without affecting the accuracy of the current signal to the control.

The WAVEANALOG 2OLP is list priced at $150.00.

W Interconnections, Inc. is the exclusive master distributor in the U.S. for Weidmuller branded products for Germany-based Weidmuller Interface GmbH and Company-the world's leading supplier of electrical connection technology such as terminal blocks, printed circuit board terminals and connectors, relay sockets and plugs, and power supplies. Weidmuller has approximately 3,400 employees worldwide, with 70 sales organizations or offices in more than 60 countries. For more information, please contact:

Marketing Communications Manager
Weidmuller
821 Southlake Boulevard
Richmond, Virginia 23236
Phone (800) 849-9343
Fax (804) 794-0252
Email info@weidmuller.com
Website: www.weidmuller.com

More from Software