Signage Display suits space-limited applications.
Press Release Summary: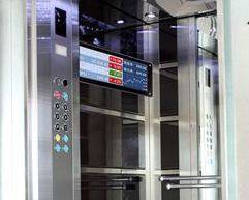 Designed with LCD resizing technology, 38 in. Model DSD-5038 features wide aspect ratio of 16:4.5 while retaining high resolution of 1920 x 538. Viewing angle of 176° H/176° V is suitable for both horizontal and vertical installation and ensures displayed content is bright and accurate from any direction. Equipped with LED backlight, display provides 800 cd/m² brightness and contrast ratio of 3,000:1. Unit supports VGA and DVI signal interfaces and has 100 x 200 mm universal wall-mount holes.
---
Original Press Release:

Advantech Ultra Widescreen Displays Opens up New Avenues for Digital Signage Applications



Eindhoven -- Advantech announces its latest innovative signage display DSD-5038 suitable for space-limited applications. Advantech DSD-5038 is designed with LCD resizing technology; meaning a 1/2 size LCD panel is resized from a 42" LCD. Therefore, the 38" monitor features a super-wide aspect ratio of 16:4.5 whilst retaining a high resolution of 1920 x 538, making it especially suitable for limited spaces and can be used to replace conventional LED signage used in transportation, elevators, and public venues. Compared to LED signage, DSD-5038 stretched signage display delivers better resolution while consuming 50% less power. It also supports a flexible wall mounting interface of 200 x 100 mm for easy installation, and can be bundled with Advantech digital signage players in a rear AD box for an all-in-one total solution.



Ultra Widescreen Design with Space Saving Features

Advantech DSD-5038 with super-wide 16:4.5 aspect ratio easily grabs attention and is ideal for limited spaces restricted in height or volume. The series supports 1920 x 538 resolution, so high definition content can be perfectly presented on their narrow, ultra-wide surface. Its 176°(H)/ 176°(V) viewing angle is suitable for both horizontal and vertical installation and ensures that displayed contents can be bright and accurate when viewed from any direction.



New Visual Experience with Low Power Consumption

DSD-5038 presents visual entertainment and information that traditional LED display mediums cannot. The display not only supports 1920 x 538 high definition output but also supports high brightness of 800 cd/m2, and a high contrast ratio of 3000:1— giving perfect visibility for a wide-range of applications. DSD-5038 also features LED backlight technology, and low operating temperatures of under 40°C and 24/7 playback, saving more than 50% on power consumption. DSD-5038 supports VGA and DVI signal interfaces and audio functions for easy connection with plug-and play systems. The series also has an RS232 interface reserved for alternative connectivity.



Perfect for Diverse Digital Signage Applications

Compared to dull, plain billboards or posters, DSD-5038 "ticks all the boxes" with its unique letter-box shape, beautiful color, real-time capability and replacement suitability for legacy LED signage. The displays can be used in versatile digital signage applications such as public terminals for transportation, elevators, menu boards and hospitality. Designed with 100 x 200mm universal wall-mount holes on the back cover, the DSD-5038 can easily be mounted onto walls or ceilings and also can be seamlessly integrated with Advantech digital signage players with connecting brackets for an all-in-one solution.



DSD-5038 38"(16:4.5) stretched signage display will be available end of December. Please contact your local sales office or visit the website: www.advantech.eu for more details.



DSD-5038 is going to be showcase at the upcoming Integrated Systems Europe 2014 in Amsterdam, the Netherlands, claim your free entrance ticket with this invitation code 245158.



Key Features of DSD-5038 Series




38" 1920 x 538 LED panel with super wide ratio of 16:4.5



Perfect for space limited applications



High brightness:800 nits



High contrast ratio: 3000:1



Dual signal interface of DVI/VGA



RS232 remote control available



Audio phone jack output



Supports wall mount solution of 200 x 100 mm



Fanless design



About Advantech Intelligent Display Solutions

As your trusted display partner, Advantech Intelligent Display Solutions offers a full range of industrial grade display solutions including Industrial Display Kit, Open Frame Monitor, Panel Mount Monitor, and Digital Signage Display to meet your application requirements. From small size of 5.7" to 55", from indoor to outdoor applications and from general industrial to rugged applications, Advantech delivers a total display solution with various display enhancement services and solutions in order to meet your specific application needs and speed up your time to market. To learn more about Intelligent Display Solutions, please visit http://www.advantech.com/industrialdisplay.



About Advantech

Founded in 1983, Advantech is a leader in providing trusted ePlatform products and services. Advantech offers comprehensive system integration, hardware, software, customer-centric design services, and global logistics support; all backed by industry-leading front and back office e-business solutions. We cooperate closely with our partners to help provide complete solutions for a wide array of applications across a diverse range of industries. With Advantech, there is no limit to the applications and innovations our products make possible. With more than 4,378 dedicated employees, Advantech operates an extensive support, sales and marketing network in 18 countries and 39 major cities to deliver fast time-to-market services to our worldwide customers. (Corporate Website: www.advantech.com).

More from Electronic Components & Devices