SigmaSense Offers 32 Inch Capacitive Interactive Display That Minimizes Power Consumption and EMI
Press Release Summary: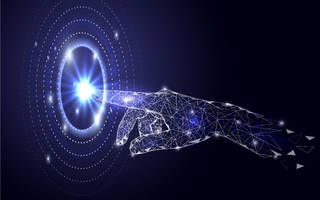 Offers 300Hz reports of simultaneous self, mutual and pen events and 20 MHz concurrent sampling of all chanels
Provides streaming view of the screen surface, imaging pens, objects and people who are in proximity to digital surface
Prevents the effects of contaminants such as liquids on the surface for reporting accurate touches
---
Original Press Release:
SigmaSense® Demonstrates Breakthrough Low Voltage Touch Sensing at Display Week 2019
Breakthrough 32-inch Capacitive-Imaging® demonstration driven by only 0.02 Volts
AUSTIN, TEXAS (PRWEB) MAY 08, 2019 - SigmaSense LLC, a pioneering market leader in Capacitive-Imaging technology, announces industry's first 32 inch interactive display with a touch sensor driven with a mere 20mV. Sensing touch using such a low voltage was previously thought unobtainable by the industry due to the environmental and system noise always present. SigmaSense's Capacitive-Imaging technology overcomes these limitations, scoring another industry first in an ever increasing list of breakthroughs.
SigmaSense's SID Display Week exhibit http://www.displayweek.org/ in San Jose, CA will also demonstrate a number of other industry milestones such as 300Hz reports, a twelve inch hover height, and touch operation through extremely thick cover glass and even when wearing heavy winter gloves. Contaminants such as liquids on the surface do not affect the ability to report accurate touches. Now, OEMs have the capability to provide robust display interaction at low power even if operation through contaminants or through thick gloves is required.
Capacitive-Imaging technology positions large interactive display markets for explosive growth
Capacitive-Imaging provides a streaming view of the screen surface, imaging pens, objects, and people who are touching or are in proximity to the display surface. SigmaSense is enabling new user experiences, providing data necessary to build the next generation of perceptive displays and finally fulfilling the demands of many new growth markets. Low latency gaming tables, for example, can now deliver reliable and predictable touch performance without lag, even with liquids on the surface. Collaborative applications utilizing machine learning may gain access to superior quality data needed for accurate and precise system responses.
Perceptive displays are bringing the next significant advance in user experiences
SigmaSense's breakthrough technology delivers improved performance, higher accuracy sensing and better signal-to-noise ratios (SNR). Capacitive-Imaging technology provides the basis for perceptive devices that meet the increasing market demand for new collaborative experiences. Human engagement and connectedness are significantly improved with a perceptive interactive display to augment the experience. Vast sensing data is now available for machine learning displays to enable these new experiences reliably.
Powerful digital signal processing delivers very high signal to noise ratios (SNR), which enables the SigmaSense approach to achieve unparalleled noise immunity and ultra-low power consumption. 
 300Hz reports of simultaneous self, mutual and pen events
 10x lower voltage – minimizing power consumption and EMI
 100x better noise filtering – no harmonics
 20MHz concurrent sampling of all channels
 Highest resolution and accuracy
 Low latency – especially beneficial for gaming apps
 No painful tuning cycles – improves time-to-market
"Our Capacitive-Imaging technology operates effectively with as little as 0.020 volts of channel drive, which is an industry first. We are also showing modes of operation that sense the hand hover from a height as much as twelve inches high. This combination of capabilities is truly a game changer for markets that have been waiting for the technology to catch up with their creativity," said Rick Seger, CEO, SigmaSense. "Capacitive touch innovations have remained stagnant over the last decade providing only incremental functionality and performance. Our new Capacitive-Imaging technology facilitates ease of design, fast tuning, optical superiority and breakthrough improvements in performance for large displays that were simply not possible before."
Capacitive-Imaging will be exhibited at the SID Display Week conference in San Jose, May 14th – 16th. The SigmaSense table is located in the IZone, table 11 in booth 240.
About SigmaSense® LLC 
SigmaSense LLC, provides breakthrough DriveSense™ sensing technology whereby concurrent drive and sense has the power to transform products of the future. For the first time, a system can now both drive (stimulate) and receive (sample) sensing data on the same pin simultaneously. Capacitive-Imaging® utilizes the DriveSense architecture to deliver an image of the entire display surface without the lag normally experienced in products of today. This technology provides a streamed 3D view of the display surface. This enables new user experiences as a result of the high resolution pen, object, and touch data that provides the data necessary to build the next generation of perceptive displays. Finally the promise of many new growth markets is realized. For further information, please visit http://sigmasense.com.
Contact Information
Gary Baum
SigmaSense LLP
https://sigmasense.com/
512 431 3868
More from Software