Sigmascope® SMP350 is DIN EN 2004-1 and ASTM E 1004 approved.
Press Release Summary: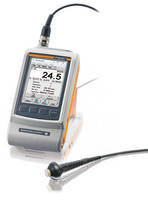 Suitable in scrap metal sorting, testing homogeneity of alloys and estimating phosphorous content in copper, Sigmascope® SMP350 is used for measuring electrical conductivity of nonferrous metals. Allowing contact-free determination of substrate's conductivity, unit uses phase-sensitive eddy current method. Product can determine electrical conductivity even with up to 500 µm thick paint or plastic coatings.
---
Original Press Release:
Introducing the New Sigmascope® SMP350
Measuring the Electrical Conductivity of Nonferrous Metals
Electrical conductivity is an important material property that provides information not only about a metal's ability to conduct electrical currents but also about its composition, micro structure and/or mechanical properties. Using the SIGMASCOPE® SMP350, it is easy and quick to determine the electrical conductivity with precision and accuracy.
Measurement Principle: The SIGMASCOPE® SMP350 measures the electrical conductivity using the phase-sensitive eddy current method, which is approved by both DIN EN 2004-1 and ASTM E 1004 for determining conductivity. This kind of signal evaluation allows for contact-free determination of a substrate's electrical conductivity, even under paint or plastic coatings up to 500 µm thick. This method also minimizes the influence of surface roughness.
Applications
The SMP350 can measure the electrical conductivity of any non-magnetic metal. Furthermore, since the electrical conductivity provides data about other material properties, it is effective in a wide range of measuring applications and fields of use, including:
Quality assurance and sorting of raw materials
Authenticating of coin alloys (e.g. specific conductivity of coins)
Assessing hardness and strength of heat-treated materials
Inspecting for heat damage, material fatigue and cracks
Estimating the phosphorous content in copper
Tracking precipitation processes, e.g. for Cu-Cr alloys
Testing the homogeneity of alloys
Scrap metal sorting
Item No. CD-814103
Contact:
Sherri B. Thompson,
Advt/Mktg Manager
Paul N. Gardner Company, Inc.
316 NE 1st Street,
Pompano Beach, FL 33060
(954) 946-9454
visit Gardco.com
Julia LaShure
Marketing Department
Paul N. Gardner Company, Inc.
954.946.9454 x331
More from Packaging Products & Equipment