Pressure Sensors / Detectors / Transducers
Sigma-Netics Ruggedized Pressure Transducers Withstand Radiation, Fatigue and High Pressures in Harsh Environments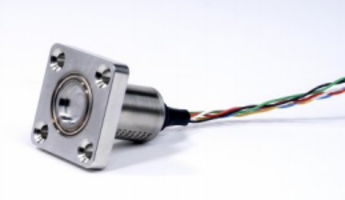 Sigma-Netics, Inc., a global manufacturer of pressure switches, pressure transducers, metal bellows and metal bellows assemblies, offers durable pressure transducers that can withstand radiation, fatigue, submersion in underwater vehicles and high pressures in excess of 30,000 PSI.
Available models include:
A general industrial pressure transducer with wetted material alternatives, extended thermals and pressure ranges to 25,000 PSI.
A radiation-tolerant MV/V pressure transducer, which features custom ATP, NDE traceability and low mass for tight installations.
A high-pressure, fatigue-rated transducer for pressures in excess of 100,000 PSI. Units are available with extended temperature compensation ranges, high-level analog and digital outputs and ±0.25-percent FSO accuracy.
A multi-purpose aerospace pressure transducer, which features shunt calibration, multi-temperature thermal sensor characterization and cryogenic options.
A miniaturized aerospace pressure transducer. This low-mass, highly accurate unit weighs in at less than 90 grams. Units feature a 3/4-inch outer diameter, pressure ranges up to 10,000 PSI and a variety of wetted material options.
A submersible vehicle depth transducer. This compact, 90-gram model features shallow diaphragm sensors and a configurable flange design for outboard or inboard bulkhead installation. Units include an all-welded hermetic construction that resists shock and vibration.
Due to their ruggedized design, these pressure transducers meet the requirements of demanding industrial and aerospace applications—including deep space missions. Other notable features include combined temperature and pressure measurement, remote electronics modules, wide standard temperature ranges (-65° to +250° F) and more.
As with our bellows, bellows assemblies and pressure switch products, Sigma-Netics offers customized solutions for cases in which standard catalog products will not meet an OEM's application requirements.
For product specifications, please visit http://www.sigmanetics.com/products/pressure-transducers.
About Sigma-Netics, Inc.
Sigma-Netics is a privately held corporation founded in 1966, headquartered in a 30,000 square foot facility in Riverdale, NJ, USA. We are a global manufacturer of pressure switches, pressure transducers, metal bellows and metal bellows assemblies. Our pressure switches and transducers focus on protecting 1/2 equipment, processes and personnel, while our bellows are used in a multitude of applications ranging from industrial temperature sensing to flight critical aerospace applications. All of our products are manufactured with uncompromising quality produced from innovative designs and superior manufacturing techniques.
Corporate Headquarters
18 Cattano Avenue, Unit 3C
Morristown, NJ 07960
Glen Turvey
Phone: 973 206 3090 x 201
glen@t2marcom.com
More from Communication Systems & Equipment