SierraNet M328 Analyzer is used in System and Quality Assurance test applications.
Press Release Summary: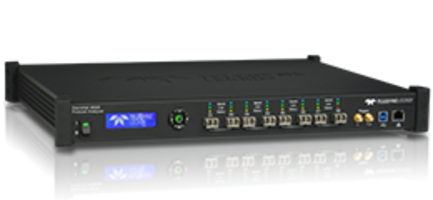 Using T.A.P.3™ probing technology for complete transparent acquisition solutions for Ethernet and Fibre Channel SAN/NAS environments, SierraNet M328 Protocol Analysis System is configured and controlled with Net Protocol Suite™ software utility. Product is suitable for pin-point, deep packet inspection for troubleshooting high speed storage and fabric interconnections.
---
Original Press Release:
Teledyne LeCroy Announces Addition to Ethernet Testing Portfolio
Teledyne LeCroy adds M328 High Speed Ethernet and Fibre Channel Fabric Traffic Analysis and Impairment Platform
Teledyne LeCroy, the worldwide leader in protocol test solutions, is pleased to announce the latest in High Speed Ethernet Fabric tools, the SierraNet™ M328 Protocol Analysis system. SierraNet M328 leverages the success of the SierraNet T328, and offers our patented InFusion™ world-class traffic impairment test and debug solutions in conjunction with state of the art analysis. The creation of a complete fabric test environment for 25G, 50G and 100G Ethernet and 32G/128G Fibre Channel interconnections has never been easier.
The SierraNet M328 is the ideal instrument for interoperability System and Quality Assurance (SQA) test applications in today's emerging high-speed Ethernet and Fibre Channel fabrics, offering the ability to emulate various operating environments and systems configurations. The class leading InFusion "jammer" function provides real-time traffic impairment capabilities to stress any and all of the hardware and software components of the fabric under test (FUT).
Recently ratified IEEE 802.3 Ethernet specifications are driving storage and network access speeds to carrier rate equivalents in the data center. These higher speeds require new approaches to test and validation. The Ethernet and Fibre Channel supporting specifications provision advanced PHY layer communications and offer more capabilities, including support for an expanding array of storage protocols, like NVMe. This results in completely new challenges for supporting the new speeds as well as maintaining the legacy infrastructure.
"The SierraNet M328 is designed to approach the challenge of Ethernet and Fibre Channel traffic analysis with a unique understanding of the adaptations and peculiarities of testing and validating the high-speed fabric environment. The M328 leverages the success of the T328, where the hardware community greatly benefited from our passive probing technology, which enables visibility into advanced auto-negotiation and link training issues, and now validation teams have a comprehensive solution to complete their interoperability and SQA routines," states Teledyne LeCroy's Gerard Geary, Vice President of Network Solutions.
Teledyne LeCroy's SierraNet family offers the industry's most comprehensive set of analysis tools available from any Test and Measurement vendor. Utilizing our T.A.P.3™ probing technology, SierraNet T328 offers users the only completely transparent acquisition solution for all Ethernet and Fibre Channel SAN/NAS environments, ensuring the traffic captured is the traffic transiting the bus under observation.
The SierraNet 328 platforms' are configured and controlled with the Net Protocol Suite™, the industry leading complete software utility. All analysis projects and InFusion scenarios are created and maintained in one tightly integrated and standards compliant package with lifetime updates and revisions included. The Net Protocol Suite software supplies users the most advanced and wide-spread tool set for creating complex and detailed test matrices, which include the industries only event timer and counter functions.
The SierraNet family of protocol analysis test tools are the defining platforms for pin-point, deep packet inspection to troubleshoot issues affecting high-speed storage and fabric interconnections, during system design and validation as well as in the datacenter. Traffic capture occurs within the analyzer's dedicated in-band, line-rate probing technology, providing bit level detail of the data stream. The SierraNet offers the most accurate depth of triggering functionality, encompassing all physical and logical OSI layers, ensuring lossless packet captures for in-depth analysis.
About Teledyne LeCroy
Teledyne LeCroy is a leading manufacturer of advanced oscilloscopes, protocol analyzers, and other test instruments that verify performance, validate compliance, and debug complex electronic systems quickly and thoroughly. Since its founding in 1964, the Company has focused on incorporating powerful tools into innovative products that enhance "Time-to-Insight". Faster time to insight enables users to rapidly find and fix defects in complex electronic systems, dramatically improving time-to-market for a wide variety of applications and end markets. Teledyne LeCroy is based in Chestnut Ridge, N.Y. For more information, visit Teledyne LeCroy's website at teledynelecroy.com.
Media contact:
Hilary Lustig,
Marketing Communications Manager
(845) 578-6120
Customer contact:
Teledyne LeCroy
PSG Customer Care Center
(800) 909-7211
Website: teledynelecroy.com/protocolanalyzer/
More from Electronic Components & Devices