Siemens's Latest TIA Portal V15 is Designed for Simulation and Commissioning
Press Release Summary: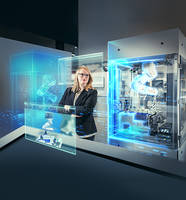 TIA Portal V15 is (Totally Integrated Automation Portal) helps in improving digital designing of work processes. This portal focuses on Simatic S7-1500R/H controllers, Sinamics S210 drive integration, Multiuser Engineering, software units and OPC UA functions. The commissioning of S7-1500 controllers is simplified and using the TIA portal. The TIA offers standardized operating procedure for controllers, human machine interfaces (HMI) and drives with configuration, communication and diagnostics libraries options.
---
Original Press Release:
Engineering Framework with Practice-Oriented Functions for End-to-End Work Processes
TIA Portal V15.1: Practice-oriented functional expansions of the engineering framework along the entire value chain
Spotlight on simulation and virtual commissioning
Complete validation of machines with Simatic Machine Simulator V1.0 and NX Mechatronics Concept Designer
Extended applications with redundant Simatic S7-1500R/H controllers and integration of the Sinamics S210 servo converter
With TIA Portal V15.1 (Totally Integrated Automation Portal) Siemens is enhancing its engineering framework with new practice-oriented functions for all phases, from planning to engineering to commissioning. Key topics in TIA Portal V15.1 include new simulation and virtual commissioning options which enable even better digital design of integrated work processes, as well as the expanded application focus with Simatic S7-1500R/H controllers, Sinamics S210 drive integration, Multiuser Engineering, software units and OPC UA functions.
Using Simatic S7-PLCSIM Advanced, a digital twin of the Simatic S7-1500 Controller is created in the TIA Portal for simulation and virtual commissioning purposes. The new Simatic Machine Simulator V1.0 then combines this digital twin with the NX Mechatronics Concept Designer (NX MCD) simulation software for mechatronic machine concepts. This enables the virtual validation of complete machines: mechatronic and control models, including simple up to complex behavioral models, are synchronized, and machine-level applications can be simulated and then verified. Combining simulation models for controllers and mechanics gives rise to a digital twin of the real world application. This enables the simulation and validation of machines, and optimization processes to be tested without the need for real prototypes. Engineering errors can be spotted early on and corrected or avoided before actual commissioning. Under realistic conditions, the comparison between the digital twin and real systems makes it possible to respond promptly to changes and automatically consider modifications in upstream and downstream stages of development.

The commissioning of S7-1500 controllers in TIA Portal V15.1 is also faster and more efficient than before. The TIA Portal Multiuser Engineering has been augmented with a commissioning mode and it is now possible to structure the user program using software units. The Simatic S7-1500 Controller portfolio has also been enhanced with the new redundant Simatic S7-1500R/H CPUs. The engineering corresponds to that of a standard CPU and the TIA Portal and redundant CPUs handle the synchronization of the programs and data. All without any additional overhead for the user.

Extended application options in the TIA Portal V15.1 include controller-controller communication with the OPC UA functions of the S7-1500 controller. In addition to the OPC UA server function, it can now also be used as an OPC UA client. Standardized interfaces – so-called companion specifications – are easy to import with the TIA Portal and facilitate straightforward machine integration into a plant. The Siemens OPC UA Modelling Editor SiOME supports the automation engineer with tag interconnection and makes it easier to import them into the Simatic S7-1500 controller.

The drive integration of the Sinamics S210 servo converter into TIA Portal V15.1 also offers more application options. The Sinamics Startdrive engineering tool makes direct parameterization commissioning and diagnostics in the TIA Portal possible. Motion Control applications, including in conjunction with the S7-1500T motion controller, can be even more easily implemented and efficiently processed. A final TIA Portal feature is the assistant-based safety acceptance test for the Sinamics S120 converter which simplifies machine acceptance and automatically creates the required reports.

Background information:
Launched in 2010, the Siemens TIA Portal (Totally Integrated Automation Portal) enables users to perform automation and drive tasks quickly and intuitively through efficient configuration. The software architecture is designed for high efficiency and ease of use, and is suitable for both new and experienced users. It offers a standardized operating concept for controllers, human machine interfaces (HMI) and drives, as well as for shared data storage and consistency, for example during configuration, communication and diagnostics, and also offers powerful libraries for all automation objects. The simple engineering in the TIA Portal facilitates full access to the entire spectrum of digitized automation, from digital planning and integrated engineering up to transparent operation. Alongside PLM (Product Lifecycle Management) and MES (Manufacturing Execution Systems) within the Digital Enterprise Software Suite, the TIA Portal complements the holistic range of software available from Siemens for companies on the path toward Industry 4.0.
You will find this press release and a press photo at www.siemens.com/press/PR2018040249DFEN

For further information, refer to www.siemens.com/tia-portal

Find further information about Siemens at the Hannover Messe 2018 at: www.siemens.com/press/hm18 and www.siemens.com/hannovermesse
Contact for journalists
Gerhard Stauss
Phone: +49 911 895-7945; E-mail: gerhard.stauss@siemens.com
Follow us on social media
Twitter: www.twitter.com/MediaServiceInd and www.twitter.com/siemens_press 
Blog: https://blogs.siemens.com/mediaservice-industries-en
Siemens AG (Berlin and Munich) is a global technology powerhouse that has stood for engineering excellence, innovation, quality, reliability and internationality for 170 years. The company is active around the globe, focusing on the areas of electrification, automation and digitalization. One of the world's largest producers of energy-efficient, resource-saving technologies, Siemens is a leading supplier of efficient power generation and power transmission solutions and a pioneer in infrastructure solutions as well as automation, drive and software solutions for industry. With its publicly listed subsidiary Siemens Healthineers AG, the company is also a leading provider of medical imaging equipment – such as computed tomography and magnetic resonance imaging systems – and a leader in laboratory diagnostics as well as clinical IT. In fiscal 2017, which ended on September 30, 2017, Siemens generated revenue of €83.0 billion and net income of €6.2 billion. At the end of September 2017, the company had around 377,000 employees worldwide. Further information is available on the Internet at www.siemens.com.
More from Communication Systems & Equipment