Siemens Mobile Transformers are Increasing the Stability of New York's Power Grid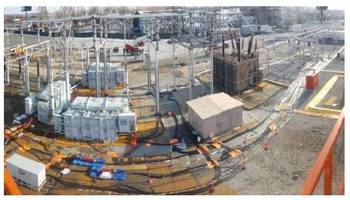 Extra-high-voltage transformers installed with utility ConEd in record time – just 30 work hours over three days
Novel plug-and-play transformers for emergency response
Siemens and Con Edison of New York, Inc. have successfully installed an innovative and versatile plug-and-play mobile resilience power transformer in record time. While it usually takes several weeks to transport and install a new power transformer on-site, the team completed the transformer's positioning and final installation in only 30 work hours.
"Grid resilience is an issue that's very important for us and our customers – and in the end, for society as well," said Beatrix Natter, CEO of Siemens Transformers. "The fast-track installation time of our innovative plug–and-play mobile resilience transformers is proof that our grid resilience concept is a true first-aid kit for emergency situations."
Siemens mobile resilience transformers were developed in collaboration with Con Edison as a part of the Siemens Pretact® concept for maximum grid resiliency. Siemens delivered the mobile resilience transformers late last year. They can be transported to the installation site on a truck and will serve as an emergency measure in the event of unplanned outages – like those caused by hurricanes – or for planned outages due to maintenance work.
The transformers were designed as single-phase units to be as compact and lightweight as possible. For ease and quick installation, they are transported with their environmentally friendly ester filling - transport weight of 216,000 lbs. includes fluid - and equipped with plug-and-play bushings and cable connections.
The Pretact® concept used in the design of the Siemens transformers combines several modules that help grid operators prevent transformer failures through dedicated service measures and protect the transformers from harm like that caused by natural disasters. The innovative mobile resilience transformers offer a backup for unplanned outages – just in case all other precautions fail – and support grid coverage during planned outages as well.
Siemens mobile transformers are increasing the stability of New York's power grid: Siemens and ConEdison have installed three novel plug-and-play transformers for emergency response in record time – just 30 work hours over three days.
For further information on Division Energy Management, please see www.siemens.com/energy-management.
For further information on the Siemens Pretact® concept for transformers, please see www.siemens.com/pretact.
Siemens AG (Berlin and Munich) is a global technology powerhouse that has stood for engineering excellence, innovation, quality, reliability and internationality for more than 165 years. The company is active in more than 200 countries, focusing on the areas of electrification, automation and digitalization. One of the world's largest producers of energy-efficient, resource-saving technologies, Siemens is a leading supplier of efficient power generation and power transmission solutions and a pioneer in infrastructure solutions as well as automation, drive and software solutions for industry. The company is also a leading provider of medical imaging equipment – such as computed tomography and magnetic resonance imaging systems – and a leader in laboratory diagnostics as well as clinical IT. In fiscal 2016, which ended on September 30, 2016, Siemens generated revenue of €79.6 billion and net income of €5.6 billion. At the end of September 2016, the company had around 351,000 employees worldwide. Further information is available on the Internet at www.siemens.com.
Siemens AG
Communications Head:
Clarissa Haller
Wittelsbacherplatz 2
80333 Munich Germany
Contact for journalists
Sabrina Martin
Phone: +49 9131 7-37168;
e-mail: sabrina.martin@siemens.com
More from Fluid & Gas Flow Equipment