Siemens Introduces Four-Week Lead Time on Generation II Simotics® 1FK7 Servomotors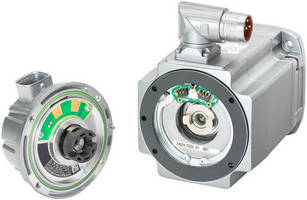 Field-replaceable 24-bit encoders in 10 styles and reduced lead times highlight new line of servomotors; three inertia versions, seven shaft heights on highly-configurable line 



Siemens Industry, Inc. announces reduced lead times for its Generation II Simotics 1FK7 servomotors.  Highly-configurable to suit a wide variety of applications, this new line features seven shaft heights, Quick-Connect power connector and  high-accuracy 20- and 24-bit field replaceable encoders in 10 styles, all combined with a four-week lead time beginning July 1, 2013 — and ultimately reduced to three-weeks beginning January 1, 2014 on all models. 



The Generation II servomotor offers three inertia versions — standard, high-dynamic for rapid acceleration jobs, and high-inertia for maximum smooth running.  These motors are designed for operation without external cooling and the heat is dissipated through the motor surface.  With 10 styles of field-replaceable encoders, the 1FK7 Generation II servomotors provide easy maintenance in the field, with reduced downtime and operating cost savings.  Further, a 10 percent improvement in continuous (S-1) power is achieved since the encoders are mechanically and thermally decoupled from the motor.  The mechanical decoupling also means the encoder is more resistant to vibration conditions on the machine.  In addition, there is no need for battery back-up on the absolute encoders.



Generation II Simotics 1FK7 servomotors provide users with  3x overload, 2.5 percent torque ripple, cross profiling for easier mounting, Siemens Drive-Cliq interface for easier field commissioning and unit recognition with the Siemens Sinamics S120 drive family, plain shaft or keyway design, three IP ratings and are supplied with or without holding brake. 



The full application engineering assistance and service of the global Siemens network supports this new line of servomotors.



For more information on these new Siemens servomotors, please visit www.usa.siemens.com/simotics.



Contact:

Siemens Industry, Inc.

John Meyer

Phone: (847) 952-4158

E-Mail:  john.meyer@siemens.com



For specific product information and inquiries, call (800) 879-8079 ext. Marketing Communications or send an e-mail to: SiemensMTBUMarCom.industry@siemens.com.



Follow us on Facebook: www.facebook.com/siemens.dt.us

or Twitter:  www.twitter.com/siemens_dt_us.



Siemens Industry Sector is the world's leading supplier of innovative and environmentally friendly products, solutions and services for industrial customers. With end-to-end automation technology and industrial software, solid vertical-market expertise, and technology-based services, the sector enhances its customers' productivity, efficiency and flexibility. With a global workforce of more than 100,000 employees, the Industry Sector comprises the Industry Automation, Drive Technologies and Customer Services Divisions as well as the Metals Technologies Business Unit. For more information, visit http://www.usa.siemens.com/industry.



The Siemens Drive Technologies Division is the world's leading supplier of products, systems, applications, solutions and services for the entire drive train, with electrical and mechanical components. Drive Technologies serves all vertical markets in the production and process industries as well as the infrastructure/energy segment. With its products and solutions, the division enables its customers to achieve productivity, energy efficiency and reliability. For more information, visit http://www.usa.siemens.com/drivetechnologies.



More from Fluid & Gas Flow Equipment