Siemens Bayer Miles Hema Tek Histology Equipment/Slide Stainers Available at Block Scientific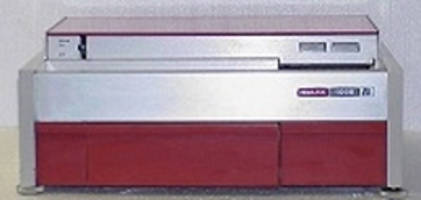 Block Scientific offers competitively priced Siemens Bayer Miles Hema Tek Histology equipment/slide strainers.
A reliable supplier of laboratory equipment based in New York, Block Scientific offers efficient histology and cytology equipment to meet the needs of today's laboratories. Refurbished Siemens Bayer Miles Hema Tek histology equipment/slide stainers are available at Block Scientific's online store. This includes the Miles Hema Tek 2000 and Miles Hema Tek 1000. Reagents, controls, and consumables and service contracts may also be available.
Miles Hema Tek 1000 is an automated histology slide stainer ideal for staining multiple slides in any laboratory setting. It uniformly stains hematologic slides and uses disposable, prepackaged stain, buffer, and rinse solutions. The key functional components of the system are spiral conveyors and three peristaltic pumps. The device starts in 12 minutes and processes 60 slides per hour and the pilot light indicates when remaining solution is sufficient for only 20 slides.
The Miles Hema Tek 2000 has the capability to process 60 slides per hour and offers superior control of stain and buffer mix. The simple and easy to maintain model delivers precise volumes of fresh stains for every slide. It ensures uniform staining from field to field and slide-to-slide.
All the refurbished devices that Block Scientific offers for sale are carefully reconditioned to meet original manufacturer specifications. In addition to economically priced lab equipment, the options for labs with budget limitations include reagent rental plans and leasing options. This lab equipment supplier also provides efficient maintenance support.
About Block Scientific
Block Scientific, an established lab equipment supplier in NY offers quality laboratory equipment ranging from analyzers and centrifuges to microscopes co-oximeters, incubators, balances, and much more. Orders can be placed at www.blockscientificstore.com
Contact Information
22 Sawgrass Drive
Bellport, NY 11713 USA
Tel: 1-866-203-5777 (toll free)
Tel: 631-589-1118
Fax: 631-589-4088
Email: info@blockscientific.com