Shrinkable Lay Flat Tubing has thin wall construction.
Press Release Summary: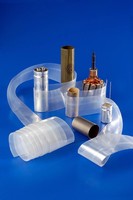 Available with wall thicknesses as thin as .002 in. and 0.625-7.5 in. ID, SuperTuff(TM) heat-shrink PET lay flat tubing shrinks up to 35% in diameter and 20% in length, and bonds to most substrates it shrinks on. Tubes can be cut to any length, or reeled. Meeting Mil-DTL-23053/7 Class 1 standards, SuperTuff(TM) delivers 7,700 V dielectric strength, is resistant to solvents, and is suited for range of insulation and encapsulation applications.
---
Original Press Release:

Stone Industrial Introduces Stronger, Better Insulating PET Shrinkable Lay Flat Tubing



COLLEGE PARK, MD - Stone Industrial has introduced an ultra-thin walled heat-shrink polyester (PET) lay flat tubing that delivers both high dielectric protection and physical toughness, making it an ideal new product for the broadest range of insulation and encapsulation applications.

Called SuperTuff(TM), the material is made into tubing using an exclusive new manufacturing process available only from Stone Industrial to create tubes cut to any length (or reeled) with inside diameters of .625" to 7.5", and wall thicknesses as thin as .002". The new process greatly reduces the potential for splits common to other seamed tubes, and offers considerably greater strength and tear resistance as compared to extruded tubing. In addition, the new SuperTuff(TM) tubing is highly resistant to solvents, cleaning solutions, other chemicals and moisture.

In all, SuperTuff offers manufacturers a variety of superior performance characteristics that make it particularly well suited for hundreds of insulation, encapsulation and protective covering applications including battery/battery packs, capacitors, cables, electrical connectors, fuses and motors. These characteristics include:

o Shrinks up to 35% in diameter and 20% in length;
o Will bond to most substrate it shrinks on;
o Exceeds Mil-DTL-23053/7 Class 1;
o Delivers 7,700V dielectric strength;
o Can easily be spooled, cut to length in a variety of colors and printing options.

"Until now, users of PET shrinkable lay flat tubing have had to compromise between the inherent weakness of extruded tubing and the raised ridges and possibility of splits in seamed tubes," says Stone Industrial's Sid Kuropchak, Vice President, Sales and Marketing. "Now SuperTuff(TM) gives them the improved heat-shrink, lay flat performance they need to design and develop better products."

SuperTuff(TM) is just the latest tubing innovation from Stone Industrial, dating back to the company's invention of the first paper drinking straw in 1888. Stone Industrial is a division of Precision Products Group, Inc. Other divisions include Paramount Tube, Ft. Wayne, IN and PPG China, Changzhou, China.

For more information, contact:
Sidney Kuropchak
(301) 220-4284

Stone Industrial, 9207 51st Avenue, College Park, MD 20740-1910 Phone: (301) 474-3100 Fax: (301) 345-2367 www.stoneindustrial.com

More from Electrical Equipment & Systems