Shrink Fit Toolholders offer optimized gripping.
Press Release Summary: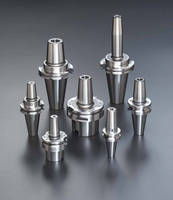 Model HSK32E/40E Shrink Fit Tool Holders are prebalanced to 2.5 G at 40,000 rpm while #40 taper/HSK63 holders are balanced to 2.5 G at 20,000 rpm and #50 taper/HSK100 units to 2.5 G at 15,000 rpm. Combined with Shrink Fit Unit, toolholders heat up and cool, with thermal contraction exerting uniform pressure for gripping. Units allow for tool changes in less than 30 sec and are available in both inch and metric sizes.
---
Original Press Release:

Lyndex-Nikken Shrink Fit Toolholders



Mundelein, IL - (April 16, 2009) Lyndex-Nikken's Shrink Fit Holders are quality designed and constructed for optimum accuracy, rigidity and balance. Featuring solid construction and Japanese engineering, these holders offer minimal variations of unbalance when changing cutting tools.

Used in combination with a Shrink Fit Unit, Shrink Fit Tool Holders rapidly heat up to expand the inside diameter of the holder. As the holder cools, the thermal contraction exerts a uniform pressure that shrinks down around the tool for uniform and superior gripping. This process not only ensures accuracy, but also allows for tool changes of less than 30 seconds.

The separate Shrink Fit Unit, also available form Lyndex-Nikken, employs a unique direct liquid-cooling method that quickly and safely cools tools down.

Lyndex-Nikken Shrink Fit Holders are designed to be symmetrical. All Shrink Fit Holders are pre-balanced (to G2.5 at 40,000 rpm on all HSK32E/40E holders, to G2.5 at 20,000 rpm on all #40 taper/HSK63 holders and to G2.5 at 15,000 rpm on all #50 taper/HSK100 holders). Most of these holders are capable of being balanced with the use of an optional balancing kit. Lyndex-Nikken offers a complete line of Shrink Fit Holders in both inch and metric sizes.

Lyndex-Nikken is North America's leading supplier of Machine Tool Accessories, and a wholly owned subsidiary of Nikken Kosakusho Works, Ltd. Japan.

For more information, visit us at EASTEC, Booth #5355 or www.lyndexnikken.com, or contact Lyndex-Nikken Inc., 1468 Armour Blvd., Mundelein, IL 60060, Phone: (800) 543-6237.

More from HVAC