Shredder handles all C & D material.
Press Release Summary: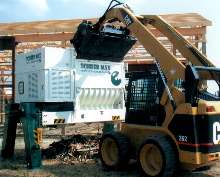 Schred Max 56 SD offers various discharge options, setting up over 4.0 yard tip bins, 20 yard roll-off containers, or discharging directly to ground, conveyor, or radial stackers. Its bi-rotational hydraulic drive is powered with 50 hp CAT diesel engine. Product shreds any material with its 9 in. solid shaft with 3.5 in. thick, aggressive, replaceable, bi-directional cutting teeth. Operation is available with auto reverse and anti-jamming functions.
---
Original Press Release:
Break, Shred, Crush, Flatten, Pierce, Shear, Split Tear: Schred Max Takes On All C & D Material
As part of recent demonstrations at construction sites in both Florida and Ontario, Canada, the Schred Max 56 SD from Protoworks Inc., again proved that it could take on the toughest job on site, saving money for the contractor. At a condo project, this compact primary reducer kept the job site clean and tidy and reduced the number of container loads and potential lost workdays as a result of poor housekeeping. Furthermore, the densification of the bulky materials was over 3 to 1 and included everything from waste wood, drywall, wire spools, paint pails, pallets, vinyl and aluminum siding, plastic, cardboard, electrical and plumbing ends, insulation and concrete chunks. According to one contractor, "the Schred Max 56 allowed us to keep the site a lot more organized and neat. The end result was a big savings in tip fees and collection. On top of all that, the trips to the landfill were much more infrequent, and it was our first step to being recognized as an environmentally friendly contractor." John Dorscht, a company director and designer of the Schred Max 56 SD questioned landfill and C&D recycling operators about the product that was being brought into the yard. All were pleased to see that the material was primary processed and had some valued added to it before it was even brought in. "Furthermore, with only having one load per day, the contractors were able to get their load in early while other contractors were turned away with their third or fourth load when the yards closed early due to excess volume", concluded Dorscht. "Contractors who haul their own job site waste will realized reduced trips in the roll-off truck to the landfill significantly reduces hauling costs associated with trucking. This is even more evident in those larger urban centers that experience traffic gridlock," says Dorscht. The model 56 SD is a perfect match for compact loading equipment. Using a CAT 262 skid steer to collect up the material around the site and the Schred Max remote control in your pocket makes this a one-man job. The operator was able to collect up the material, put it in the hopper, run the machine and pick up the ground up material and dump it in the 40 yard roll-off bin without having to leave his machine. The Schred Max 56 SD also sets up over 4.0 yard tip bins and up to 20 yard roll-off containers OR discharges directly on to the ground for loader removal OR discharges directly on top of a conveyor or radial stacker for easy stockpiling. Outrigger legs elevate the machine manually. They are adjustable depending upon the operation and required loading or discharge height. The mobile on running gear option package allows contractors to haul it from site to site with a either a Class 7 or 8 truck. It has also been designed with a towing tongue and pintle ring behind a dump or roll-on roll-off vehicle The key to the Schred Max 56 SD besides having low initial and operating costs is that it can handle almost any material fed into it. The unique high torque slow speed bi-rotational hydraulic drive is powered with a 50 HP CAT diesel. The 9" single solid shaft with 3.5" thick super aggressive replaceable bi-directional cutting teeth with auto reverse and anti jamming programmed into the operation, means that just about anything that is fed into the top of the 4 yard hopper will come out the bottom - shredded. This includes everything from railroad ties to reinforced concrete. Schred Max from Protoworks Inc. is the perfect match for those operations that are tired of shipping air to the landfill, paying to have half-empty bins carted away. Additionally, Schred Max processes the following material: industrial/car/truck tires, white goods, railroad ties, MSW, shingles, furniture and mattresses, asphalt slabs, Ind/comm waste, stumps/landclearing, product destruction, glass, automotive components, ferrous and non-ferrous metals, landfill reclamation. For more information contact: Schred Max by Protoworks Inc.
PO Box 59
290 Centre Street
Petrolia, Ontario, N0N 1R0
Tel: 519-882-3700
Fax: 519-882-8700
Email: sales@schredmax.com
Web: www.schredmax.com
More from Packaging Products & Equipment