Shredder destroys paper, computer media, and more.
Press Release Summary: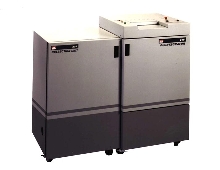 Model 200 shredder disintegrator reduces paper to particles less than 3/32 X 3/32 in., exceeding Department of Defense standards. It has rotary knife mill, with two knives mounted on solid steel rotor and two knives on stationary bed. As rotor spins, waste is continually cut by knives until it is small enough to fit through 3/32 in. steel screen. Shredder can also destroy CDs/DVDs, floppy discs, credit cards, I.D. badges, microfilm and audio cassettes.
---
Original Press Release:
Office Disintegrator Reduces Paper To Particles Smaller Than Conventional High Security Shredders

WESTBORO, MA -The Model 200 shredder disintegrator from Security Engineered Machinery reduces paper to particles less than 3/32" X 3/32" (exceeding current Department of Defense standards for paper destruction). Unlike conventional shredders, the Model 200 utilizes a rotary knife mill design, which consists of two knives mounted on a solid steel rotor and two knives on a stationary bed. As the rotor spins waste is continually cut by the passing knives until it is small enough to fit through a 3/32" X 3/32" steel screen.

In addition to destroying paper, the Model 200 is rugged enough to destroy CD's/DVD's, floppy discs, credit cards, I.D. badges, microfilm and even audio cassettes.

The system operates on 115V power. It consists of a cutting unit, and attached waste extraction vacuum. Both are housed in a fully sound proofed enclosure for quiet operation. The small footprint allows the unit to fit in any office, mailroom, computer room or copy center.

Security Engineered Machinery (SEM) was established in 1967, and is the largest direct supplier of document destruction equipment in the United States. In addition to supplying off-the-shelf units, SEM maintains a full-service engineering department that designs specialty products. Nearly 200 of their currency destruction systems are currently in use with the Federal Reserve Bank and other central banks, making SEM the largest supplier of currency destruction systems in the world. Every American Embassy in the world is a user of SEM equipment. Other areas of expertise include size reduction systems and equipment for destroying off-spec or returned product for the pharmaceutical, medical device and food industries, and heavy-duty, high-capacity shredders for recycling applications. Positioned to serve customers globally, there are over 100 SEM Authorized Service Centers worldwide.

For more information, contact Lisa Gauvin, Sales Manager, Security Engineered Machinery, PO Box 1045, Westboro, MA 01581, TEL: (508) 366-1488, FAX: (508) 366-6814, www.semshred.com.

Color Photo Enclosed File No. 02093
More from Electronic Components & Devices