Shoulder Mills are built for reliability and performance.
Press Release Summary: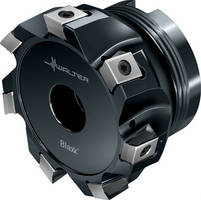 Along with high-gloss black finish resistant to wear and corrosion, Blaxx(TM) F5041 and F5141 feature indexable insert pockets that accurately and securely position inserts. Tangential inserts can increase insert area presented to workpiece as well as tool body stability. Precision inserts, manufactured in sizes LNHU0904 and LNHU1306, have 4 cutting edges, while controlled runout and concentricity of body and 90° perpendicularity to workpiece ensure accuracy.
---
Original Press Release:

Walter USA, LLC Introduces Innovative Blaxx(TM) Milling Tools that Optimize Both Process Reliability and Cutting Performance



Combining advanced tool design with a wear and corrosion resistant finish and Tigerotec® Silver coating enables Blaxx(TM) to deliver high accuracy and process reliability.

Waukesha, WI - Walter USA, LLC has introduced Blaxx(TM), a groundbreaking new shoulder mill that combines precision, high metal removal rates and process reliability in a single tool, with a visually arresting high-gloss black finish that is both wear and corrosion resistant.

The F5041 and F5141 shoulder mills, now available, feature highly precise indexable insert pockets that position the inserts accurately and securely. Add to this the fact that these tools are also fitted with tangential inserts that can not only increase the insert area presented to the workpiece but also enhance tool body stability, and you have a productive and highly robust tool characterized by quiet, low-vibration operation and exceptional process reliability.

These advantages are magnified by Walter's precision inserts. Manufactured in sizes LNHU0904 and LNHU1306, they have four cutting Edges per insert that allow for low horsepower consumption and high metal removal rate. The highly controlled runout and concentricity of the body, and their precise 90 degree perpendicularity to the workpiece, ensure a high degree of accuracy. Cutting depths of up to 12 mm are possible with the larger LNHU1306 indexable insert. Since the insert pockets and chip clearances for the tangential inserts demand less material in the tool body, smaller tool diameters can be achieved, with higher density capabilities than with other mill designs. The new Blaxx(TM) shoulder mills are available with diameters starting at 25 mm. The higher density design enables up to 30 per cent higher feed rates.

Blaxx(TM) performance is further enhanced by the use of Tigerotec® Silver, Walter's new high performance coating. Tigerotec® Silver delivers both superior tool life and increased productivity thanks to its advanced properties. These include increased high-temperature wear resistance with no loss of toughness. This combination of toughness and high wear resistance permits higher cutting speeds while also lengthening tool life.

Walter USA, LLC offers an extensive line up of cutting tools for milling, drilling, turning, boring and specialized tooling for unique applications through its competence brands Walter Valenite, Walter Titex and Walter Prototyp. As well as multi-level service programs through its Walter Multiply brand. Headquartered in Waukesha, Wisconsin the company has a strong network of distributors and field engineers across North America. The Walter name is synonymous with productivity, thanks to more than 80 years of developing cutting tools and inserts that set new standards in production. Walter USA, LLC combines over 75 years of U.S.-based tooling production with long-standing traditions of quality and innovation.

For more information about Walter Blaxx(TM), scan this QR code or visit http://goo.gl/CesMH

More from Waste Management & Waste Handling Equipment